CONTACT US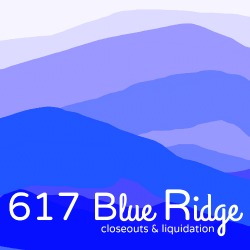 617 Blue Ridge, LLC

Round Rock, Texas 78665
United States
Tel: (737) 209-8732
Email Us: sales@617BlueRidge.com
BUY LOWER than WHOLESALE? Yes. You can.

ABOUT US:
617 Blue Ridge is a leading Closeouts & Liquidations Supplier. Contact us today for best prices and latest product inventory. We are dedicated to helping you find the merchandise you need to make your business grow! We offer truckloads at LOWER than wholesale prices. Our inventory changes rapidly, but we do have those deals everyone is always looking for - the "steals". The deals that allow you to buy ridiculously low and turn a profit fast. We do the research,you make MAKE YOU MONEY. ABOUT US: We work hard to find the right fit with the right merchandise for all of our clients. To be blunt, we would rather NOT make a sale, if its just MAKING A SALE for the sake of a sale. Our business investment is in taking the time, building a strong relationship with our customers. That's how we grow. Give us a call and introduce yourself at 843-575-7842 or 737-209-8732 or send us an email at sales@617blueridge.com . Let us know what you are looking for and let's do business!
PAYMENT ACCEPTED:
Wire transfers are accepted upon receipt of invoice.
MINIMUM ORDER :
Due to the unique combination of variables present in buying liquidation and closeout merchandise, some inventory may be sold in smaller quantities. However, in most cases, we will specify the quantity available and how it can be purchased as a minimum order.
SHIPPING METHODS:
We can help you schedule shipping or work with your shipper if preferred.
SAMPLE PACKS AVAILABLE:
Occasionally, samples are available.