Perfect for:
KIOSKS
CONVENIENCE STORES
FLEA MARKET VENDORS
BEAUTY & BARBER SHOPS
RETAIL & DISCOUNT STORES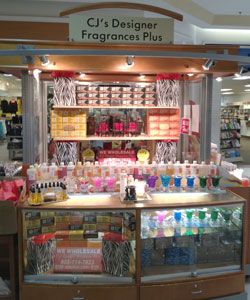 CJ's Designer Fragrances Plus
633 Bultman Drive
Sumter, SC 29150
803-774-7823
Email: cjsplus@yahoo.com
Customer Support Open Thursday — Saturday 12:30-5:00pm (Eastern Time)
Big Discounts!
Better Products!
Best Customer Service!
We offer superior quality with 10+ years experience. Triple your $$$ selling our Home & Body Oil Fragrances! Ask about OUR NEW $100 SAMPLE PACK "ONLINE ONLY!" Over 300 home & body oil fragrances to choose from. We stock America!
Item #
Description
Price
Unit
1 GAL. BURNING OIL
1 GALLON BURNING OIL
JUST CHOOSE FROM OUR BURNING OILS SECTION & LIST YOUR SELECTIONS ON OUR REMARKS SECTION ON OUR ONLINE ORDER FORM. (EXCLUDES CLEAN COTTON, CUCUMBER MELON, APRICOT,LAVENDER LT, CANTALOUPE, SUGAR COOKIES & B.W. POWDER!

70.00
GALLON
1 GAL. BURNING OILS*
1 GALLON BURNING OILS*
CLEAN COTTON, CUCUMBER MELON, LAVENDER LT, CANTALOUPE, SUGAR COOKIES & B.W. POWDER!

85.00
GALLON
1LB Body Oils
1 Lb Body Oils
Just choose from our list

35.00
Per LB
1/2 GAL. BUNING OIL
1/2 GALLON BURNING OIL
PLEASE LIST THE BURNING OIL(S)IN THE REMARKS SECTION OF YOUR ORDER FORM. EXCLUDES CLEAN COTTON, CUCUMBER MELON,LAVENDER LT, CANTALOUPE, SUGAR COOKIES & B.W. POWDER!

40.00
1/2 GALLON
1/2 GAL BURNING OIL*
1/2 GALLON BURNING OIL*
CLEAN COTTON, CUCUMBER MELON, APRICOT,LAVENDER LT, CANTALOUPE, SUGAR COOKIES & B.W. POWDER!

55.00
1/2 GALLON
16oz Plastic Bottles
16oz Plastic Bottles
16 oz Plastic Bottles

6.00
Per dozen
1oz Body Oil
1oz Body Oil
Any 1oz body Oil...Just enter your quantity and include your list on your order form when you check out!

4.00
1oz
1oz with sprayers
1oz empty plastic bottles with sprayers
Use these to pour your air fresheners in!

0.50
for each
2oz Body Oil
2oz Body Oil
Any 2oz body Oil...Just enter your quantity and include your list on your order form when you check out!

7.00
2oz
2OZ Plastic Bottles
2oz empty plastic bottles
2oz empty plastic bottles

4.00
Dozen
4oz Body Oil
4oz Body Oil
Any 4oz body Oil...Just enter your quantity and email your list!

12.00
4oz
Plastic Bottles
4oz empty plastic bottles
4oz empty plastic bottles

5.00
Dozen
8oz Body Oil
8oz Body Oil
Any 8oz body Oil...Just include your choice on the remark section of your order form.

18.00
8oz
8OZ Plastic Bottles
8oz empty plastic bottles
8oz empty plastic bottles

5.00
Dozen
GROSS OF 1/3OZ
GROSS (144 PCS) 1/3 OZ GLASS ROLL ON BOTTLES
ONE GROSS (144 PIECES) OF 1/3OZ GLASS ROLL ON BOTTLES WITH BLACK TOPS, CAPS & PLUGS.

33.00
PER GROSS
1/3oz Empty Bottles
Gross(144 pieces) Bottles,Caps,&Roll-ons
Gross(144 pieces) Bottles,Caps,&Roll-ons

33.00
Gross
LARGE WHITE SPRAYERS
LARGE WHITE SPRAYERS...FITS OUR 8OZ & 16OZ BOTTLES
LARGE WHITE SPRAYERS...FITS OUR 8OZ & 16OZ BOTTLES

0.45
LG. SPRAYER
1/3oz Empty Bottles
One dozen(12 pieces) Bottles,Caps,&Roll-ons
One dozen(12 pieces) Bottles,Caps,&Roll-ons

4.00
Dozen
SMALL SPRAYERS
SMALL SPRAYERS..FITS OUR 1,2,& 4OZ PLASTIC BOTTLES
SMALL SPRAYERS..FITS OUR 1,2,& 4OZ PLASTIC BOTTLES

0.35
SPRAYER
CHECK OUT OUR "Online Only" $100 Sample Pack Deal! SMELL LIKE A MILLIONAIRE & MAKE YOUR HOUSE SMELL LIKE A HOME WITH FRAGRANCES FROM CJ'S DESIGNER FRAGRANCES PLUS! *803-774-7823*