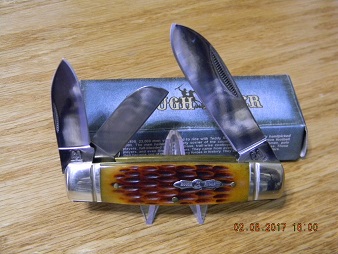 Cowboy Knife Works
603 Indian Ridge Circle
White House, Tennessee 37188 United States
Phone: 615-334 1488
E-Mail: rdocmitchell@comcast.net

---
Store will be closed from 2/21/17-2/24/17, place orders and I will fill them when I return Sat.

Colt Kissing Crane Rough Rider Marbles Miniature Knives Robt Klaas Novelty Knives Schrade

(*) in price column means Quantity Discounts Available!
Click on item name to see full details and picture if available.

Item #
Description
Price
Unit
2104
Assist Liner Lock
4 38" CLOSED, A STAINLESS STEEL BLACK COATED BLADE,HAS THE POCKET CLIP,THUMB STUD,STEEL LINED,COMPOSITION HANDLES

1.99
EACH
77RM
Schrade Muskrat Red Marble Handles
3 3/4" CLOSED, ONE FINE KNIFE, TOP OF THE LINE QUALITY,RED MARBLE HANDLES, TWO BLADES,,

9.99
EACH
897RPB
Schrade Stockman Red Bone Handles
3 1/2" Closed,Stainless Steel Blades,Brass Lined,Brass Pins,Brass Bolsters, A Well Made Knife With Lots Of Quality

12.99
1 IN STOCK
8BPB
Schrade Stockman Black Bone Handles
3 7/8" CLOSED, GENUINE BONE HANDLES, THREE BLADES, A HIGH QUALITY KNIFE,ARROWHEAD SERIES

11.99
EACH
8WM
Schrade Stockman White Marble Handles
3 7/8" CLOSED, A HIGH QUALITY KNIFE WITH WHITE MARBLE DELRAN HANDLES, ARROWHEAD SERIES

9.99
EACH
94BR
Schrade Trapper Old Timer Brown Bone Handles
3 3/4" CLOSED, BROWN BONE HANDLES THIS IS THE OLD TIMER GUNSTOCK TRAPPER, A HIGH QUALITY KNIFE,

12.99
EACH
AC141
Knife Storage Pouch Holds 16
7" X 10 1/2" HOLDS 16 KNIVES,PADDED,A VERY NICE KNIFE STORAGE POUCH,ZIP UP KNIFE POUCH,

9.99
EACH
AC97
Knife Zipup Padded Pouch
NICE TO STORE YOUR FAVORITE KNIFE. I HAVE SEVERAL WITH NICE KNIVES STORED IN THEM, LIKE MY MOTHER OD PEARL HANDLES THAT I LIKE TO SHOW. THESE RETAIL FOR $7.50, TRY $3.99 WILL HOLD UP TO 6" KNIFE

3.99
EACH
AK303
Switchblade Knife Imitation Bone Handles
3 1/4" CLOSED, STAINLESS STEEL BLADE, HAS THE SAFETY, ALL METAL CONSTRUCTION

4.99
EACH
AK303W
Switchblade Knife Wood Handles
3 1/4" CLOSED, STAINLESS STEEL BLADE, WOOD HANDLES HAS THE SAFETY, ALL OTHER IS METAL CONSTRUCTION

4.99
EACH
BF2001SL
Butterfly Knife With Chrome Handles
8 3/4" OPEN, CHROME HANDLES, ALL METAL,,VERY NICE KNIFE, WELL BALANCED,VERY NICE KNIVES, CHECK OUT THE QUALITY AND HOW IT IS ASSEMBLED

* 6.99
EACH
BF305CH
Cohn High Alumni Butterfly Style Bottle Opener
5 1/4" CLOSED,8 3/8" OPEN,STAINLESS STEEL BLADE,THIS IS A NICE COLLECTIBLE,LASER ENGRAVED

5.99
EACH
BF939BK
Butterfly Knife Black Metal Handles
9" OPEN.STAINLESS STEEL BLADE, BLACK HANDLES, ALL METAL,THESE ARE NICE KNIVES,

6.99
EACH
BF939GN
Butterfly Knife Green Metal Handles
9 INCHES OPEN, ALL METAL, GREAT QUALITY KNIVES,WITH A BEAUTIFUL FINISH, THESE ARE WELL MADE

* 6.99
EACH
BF939RD
Butterfly Knife Red Metal Handles
9" OPEN, GREAT QUALITY,WELL MADE, GOOD BALANCE,,ALL METAL,THESE ARE GOOD QUALITY BUTTERFLY KNIVES

* 6.99
EACH
BR183
Browning Stockman Red Bone Handles
3 7/8" CLOSED,440 STAINLESS STEEL BLADES,BRASS LINED,BRASS PINS,BRASS BOLSTERS,JOHN BROENING ETCHED ON THE BLADE

14.99
EACH
BR184
Browning Congress Red Bone Handles
3 1/2" CLOSED,440 STAINLESS STEEL BLADES,BRASS LINED,BRASS PINS RED BONE HANDLES,BRASS BOLSTERS, JOHN BROWNING ETCHED ON THE BLADE

14.99
Each
CA10096W
CaseXX Toothpick Wood Knife Kit
3" CLOSED, ALL WOOD,WITH METAL PINS,A NEAT COLLECTIBLE,THE WOOD BACKSPRING WORKS,NOT RECOMMENDED FOR CHILDREN UNDER 7

11.99
EACH
CA12131W
CaseXX Canoe Walnut Wood Knife Kit
3 5/8" CLOSED, ALL WOOD,METAL PINS,LICENSED BY CASE,FOR AGES 7 AND UP

11.99
EACH
CA14311
CaseXX Ford Lockback
3 1/4" CLOSED,STAINLESS STEEL BLADE, COMPOSITION HANDLES,LICENSED BY FORD MOTOR COMPANY, A NICE COLLECTIBLE, I HAVE ONE OF THESE

19.99
EACH
CC001YD
Cattlemans Cutlery Stockman Yellow Handles
3 5/8" CLOSED, STAINLESS STEEL BLADES,STAINLESS STEEL LINED,STAINLESS STEEL PINS, A WELL MADE KNIFE

10.99
EACH
CT208
Colt Gunstock Brown Stag Bone
3 1/2" CLOSED,440 STAINLESS STEEL BLADES, BRASS LINED,BRASS PINS STAG BONE HANDLES

13.99
EACH
CT208
Colt Gunstock Brown Stag Bone Handles
3 1/2" CLOSED,STAINLESS STEEL BLADES,BRASS LINED,BRASS PINS,BROWN STAG BONE HANDLES

13.99
EACH
CT250
Colt Toothpick Black Stag Bone Handle
3 " CLOSED, 440 STAINLESS STEEL BLADE,BRASS LINED,BRASS PINS, BLACK STAG HANDLES, A HIGH QUALITY KNIFE

9.99
Each
CT312
Colt Trapper Titanium Polished Black Bone
4 1/8" CLOSED, TITANIUM COATED STEEL BLADES, BLACK BONE HANDLES, BRASS LINED, A HIGH QUALITY KNIFE

14.99
EACH
CT315
Colt Muskrat Titanium Polished Black Bone
3 1/2" CLOSED, TITANIUM COATED BLADES, A HIGH QUALITY MADE KNIFE, BLACK BONE HANDLES,PINCHED BOLSTERS

13.99
EACH
CT352
Colt Mini Lockback Pink Handle
2" CLOSED, PINK METAL HANDLES, A LIGHT WEIGHT NEAT LITTLE KNIFE,STAINLESS STEEL BLADE,

4.99
EACH
CT354
Colt Mini Lockback Stainless Steel
2" CLOSED,ALL STAINLESS STEEL,A HIGH QUALITY LITTLE KNIFE,HAS THE PRANCING COLT LOGO ON THE HANDLE

4.99
EACH
CT376
Lady Colt Pink Bone Canoe
3 5/8" CLOSED,STAINLESS STEEL BLADES,BRASS LINED,BRASS PINS,PINK BONE HANDLES,FANCY BACK SPRING DESIGN,FANCY BOLSTERS,COMES IN A NICE DISPLAY CASE

10.99
EACH
CT377
Lady Colt Leg Knife Pink Bone Handles
3" CLOSED,440 STAINLESS STEEL BLADE,BRASS LINED,BRASS PINS,NICKEL SILVER DESIGNED BOLSTERS,A BEAUTIFUL COLLECTIBLE

9.99
EACH
CT383
Lady Colt Mini Trapper Pink Bone Handles
2 1/2" CLOSED,STAINLESS STEEL BLADES,BRASS LINED,FANCY BACK SPRING, FANCY DESIGNED BOLSTERS,PINK BONE HANDLES,HAS THE NICE DISPLAY BOX,A HIGH QUALITY COLLECTIBLE

7.99
EACH
CT383BB
Lady Colt Trapper Brown Stag Bone Handles
2 3/8" CLOSED,440 STAINLESS STEEL BLADES,BRASS LINED,BRASS PINS STAG BONE HANDLES

9.99
EACH
CT473
Colt Hawkbill Brown Stag Bone
4" CLOSED,440 STAINLESS STEEL BLADE,BRASS LINED,BRASS PINS, BROWN STAG BONE HANDLES,A HIGH QUALITY KNIFE

12.99
EACH
CT474
Colt Gunstock Buckshot Bone Handle
3 1/2" CLOSED,440 STAINLESS STEEL, BRASS LINED,BRASS PINS GENUINE BONE HANDLES,

13.99
each
CT476
Colt Trapper Buckshot Bone Teardrop
3 5/8" CLOSED,440 STAINLESS STEEL BLADES,BRASS LINED,BRASS PINS, BUCKSHOT BONE HANDLES

12.99
each
CT478
Colt Canoe Buckshot Bone Handle
3 5/8" CLOSED,440 STAINLESS STEEL BLADES,BRASS LINED,BRASS PINS, BUCKSHOT BONE HANDLES

9.99
EACH
CT484
Colt Muskrat Moose Buckshot Bone
4 3/8" CLOSED,440 STAINLESS STEEL BLADES,BRASS LINED,BRASS PINS,BUCKSHOT BONE HANDLES,DESIGNED BOLSTERS

15.99
EACH
CT498
Colt Mini Titanium Black Bone Handle
2 5/8" CLOSED, TITANIUM COATED BLADE,BRASS LINED,BRASS PINS,BLACK BONE HANDLE,A FINE COLLECTIBLE, THE KEY CHAIN HOLE IS THE UNLOCK THE BLADE WHEN OPEN

9.99
each
CT556
Colt Muskrat Coral Snake Red Yellow Black Lockback
3 1/8" CLOSED,440 STAINLESS STEEL BLADES,BRASS LINED,BRASS PINS,RED YELLOW BLACK HANDLES

10.99
EACH
CT559
Colt Sowbelly Coral Snake Red Yellow Black
3 3/4" CLOSED,440 STAINLESS STEEL BLADES,BRASS LINED,RED-YELLOW-BLACK HANDLES,RED ON BLACK IS A FRIEND OF JACK-RED ON YELLOW WILL KILL A FELLOW IS ETCHED ON THE BLADE

14.99
EACH
CT560
Colt Muskrat Coral Snake Red Yellow Black
4 3/8" CLOSED,440 STAINLESS STEEL BLADES,RED-YELLOW-BLACK HANDLES,AN AWESOME COLLECTIBLE

14.99
EACH
CT564
Colt Whittler Blue Ribbon And Mother Of Pearl
3 3/4" CLOSED,440 STAINLESS STEEL BLADES,ALL BLADES HAVE DOUBLE PULL,BRASS LINED,MOTHER OF PEARL HANDLES WITH BLUE INLAY,A HIGH QUALITY KNIFE

14.99
EACH
CT565
Colt Stockman Blue Ribbon And Mother Of Pearl
4 3/4" CLOSED,440 STAINLESS STEEL,BRASS LINED,BLADES HAVE DOUBLE PULL,MOTHER OF PEARL HANDLES WITH BLUE INLAY

14.99
each
CT568
Colt Muskrat Moose Exotic Green Blue Black
3 1/2" CLOSED, TURQUOISE HANDLES WITH THE COLT INLAY, STAINLESS STEEL BLADES, A FINE COLLECTIBLE

13.99
EACH
CT571
Colt Folding Hunter Titanium Black Bone
5 1/4" CLOSED, STAINLESS STEEL TITANIUM COATED BLADE,BRASS LINED,BRASS PINS,POLISHED BLACK BONE HANDLES,LINERLOCK

12.99
EACH
CT573
Colt Stockman Titanium Polished Black Bone
3 3/8" CLOSED, 440 STAINLESS STEEL BLADES,BRASS LINED,BRASS PINS,SMOOTH BLACK BONE HANDLES

12.99
EACH
CT612
Colt Trapper Titanium Black Bone Handle
3 3/4"CLOSED,440 STAINLESS STEEL BLADES,BRASS LINED,BRASS PINS, BLACK BONE HANDLES

14.99
EACH
CT615
Colt Hawkbill Freedom Red White Blue
4" CLOSED, STAINLESS STEEL BLADE, RED-WHITE-BLUE HANDLES, A WELL MADE KNIFE AND A FINE COLLECTIBLE

15.99
EACH
CT630
Colt Turquoise Peak Black & Blue Muskrat Moose
4 1/4" CLOSED,440 STAINLESS STEEL BLADES,BRASS LINED,IMITATION TURQUOISE HANDLES,WITH BLACK INLAY,BRASS DIVIDER FOR EACH COLOR, THESE ARE NICE COLLECTIBLES

14.99
EACH
CT649
Colt Razor Deluxe Blue Bone Handle
6 5/8" CLOSED,STAINLESS STEEL BLADE,A VERY BEAUTIFUL RAZOR WITH LAZER ENGRAVING OF SAM COLT ON THE BLADE

11.99
each
CT674
Colt Mini Trapper With Pink Bone Handles
2" CLOSED,STAINLESS STEEL BLADES,BRASS LINED,BRASS PINS, GENUINE PINK BONE HANDLES

3.99
EACH
CT676
Colt Mini Canoe Pink Bone Handles
2" CLOSED,440 STAINLESS STEEL BLADES,BRASS LINED,NICKEL SILVER BOLSTERS GENUINE BONE HANDLES

3.99
EACH
CT677
Colt Mini Canoe With Black Bone Handles
2" CLOSED,440 STAINLESS STEEL BLADES,BRASS LINED,BRASS PINS,NICKLE SILVER BOLSTERS,POLISHED BLACK BONE HANDLES

4.99
EACH
CT679
Colt Mini Muskrat Black Bone Handles
2 1/2" CLOSED,440 STAINLESS STEEL BLADES,BLACK SMOOTH BONE HANDLES, A PLACE FOR THE KEY CHAIN

3.99
EACH
CT681
Colt Mini Stockman Black Bone Handles
2" CLOSED,440 STAINLESS STEEL BLADES,BRASS LINED,BRASS PINS,POLISHED BLACK BONE HANDLES

5.99
EACH
CT716
Colt POW Trapper Black And Mother Of Pearl
4 1/8" CLOSED,440 STAINLESS STEEL BLADES,BRASS LINED,BRASS PINS, BLACK BONE HANDLES WITH MOTHER OF PEARL INLAY

14.99
EACH
CT719
Lady Colt Lockback Pink Bone Handle
2 1/2" CLOSED 440 STAINLESS STEEL BLADE,BRASS LINED,BRASS PINS PINK BONE HANDLES

7.99
EACH
D1551
America's Trades Canoe Handyman Club Of America
3 5/8" CLOSED,STAINLESS STEEL BLADES,BRASS LINED,BRASS PINS GENUINE BONE HANDLES, COLLECTOR'S EDITION,

8.99
EACH
D1552
America's Trades Stockman Handyman Club Of America
3 3/4" CLOSED,440 STAINLESS STEEL BLADES,BRASS LINED,BRASS PINS,NICKEL SILVER BOLSTERS, A HIGH QUALITY KNIFE COLLECTOR'S EDITION

8.99
EACH
D1556
America's Trades Muskrat Handyman Club Of America
3 7/8 CLOSED,STAINLESS STEEL BLADES,BRASS LINED,BRASS PINS GENUINE BLUE BONE HANDLES COLLECTOR'S EDITION

9.99
EACH
D1558
America's Trades Trapper Handyman Club Of America
4 1/8" CLOSED,STAINLESS STEEL BLADES,BRASS LINED,BRASS PINS GENUINE RED BONE HANDLES COLLECTOR'S EDITION

9.99
EACH
Display Tube
Display Tube For Ball Point Pen or Novelty Knives
MADE OF HARD PLASTIC, EACH END CAN BE REMOVED, THESE ARE USED FOR THE ROSEWOOD BALL POINT PENS, OR DISPLAY A SMALL POCKET KNIFE, SO MANY USES.

0.99
EACH
ER072W
Elk Ridge Lockback With Burl Wood Handles
4" CLOSED,440 STAINLESS STEEL BLADE,THE WOLF SCENE IS ETCHED ON THE BLADE, THESE ARE FINE KNIVES

8.99
EACH
ER134
Elk Ridge Linerlock Tactical Knife
3 1/2" CLOSED,440 STAINLESS STEEL,BRASS LINED,BRASS SCREWS,COMPOSITION HANDLES,REMOVABLE POCKETCLIP

8.99
EACH
ER323E
Elk Ridge Stockman Polished White Bone Handles
4" CLOSED,440A STAINLESS STEEL BLADES, POLISHED WHITE BONE HANDLES WITH THE EAGLE ETCHED ON THE HANDLE

8.99
EACH
ER539D
Elk Ridge Duck Lockback Black Wood Handles
4 1/2" CLOSED,STAINLESS STEEL BLADE,STAINLESS STEEL LINED,AND PINS,ELK CUTOUT ON THE BLADE

9.99
EACH
ERA005RB
Elk Ridge Ballistic Assist Open Linerlock Rainbow Finish
4"CLOSED,440 STAINLESS STEEL BLADE,ASSIST OPEN, HAS THE POCKET CLIP,A NICE RAINBOW FINISH,A BEAUTIFUL KNIFE

8.99
EACH
ERA158BK
Elk Ridge Ballistic Assist Open Linerlock Black Finish
4 3/4" CLOSED,440 STAINLESS STEEL BLADE,HAS THE POCKET CLIP,COMFORT GRIP, DEER CUTOUT ON THE BLADE

9.99
EACH
ERA158DT
Elk Ridge Ballistic Linerlock Assist Open Desert Tan
4 3/4" CLOSED 440 STAINLESS STEEL BLADE, STEEL LINED, A WELL MADE KNIFE,DEER CUTOUT ON THE BLADE, AWESOME KNIVES

9.99
EACH
F1701
America's Legacy Toothpick Fishing Knife NAFC
4 1/2"CLOSED,STAINLESS STEEL BLADES BRASS LINED,BRASS PINS,BONE HANDLES,NORTH AMERICAN FISHING CLUB COLLECTOR'S EDITION

8.99
EACH
F1703
America's Legacy Trapper North American Fishing Club
4 1/8" CLOSED,STAINLESS STEEL BLADES,BRASS LINED,BRASS PINS,BONE HANDLES COLLECTOR'S EDITION

8.99
EACH
F1707
America's Legacy Muskrat North American Fishing Club
3 7/8" CLOSED,STAINLESS STEEL BLADES,BRASS LINED,BRASS PINS,BONE HANDLES

8.99
EACH
F1708
America's Legacy Lockback North American Fishing Club
3 3/4" CLOSED,440 STAINLESS STEEL BLADE,BRASS LINED,BRASS PINS WOOD HANDLES NORTH AMERICAN FISHING CLUB COLLECTOR'S EDITION

8.99
EACH
F1710
America's Legacy Barlow North American Fishing Club
3 1/4 CLOSED,STAINLESS STEEL BLADES,BRASS LINED,BRASS PINS POLISHED WHITE BONE HANDLES COLLECTOR'S EDITION

8.99
EACH
FL250
Flip It Pocker Knife
3 1/4" CLOSED,BLADE IS 1 7/8", LIFT THE LEVER AND SLIDE THE BLADE OUT THE END, REVERSE TO CLOSE IT,,A NEAT LITTLE KNIFE

2.99
EACH
H1730
Hunter's Classic Folding Hunter North American Hunting Club
5 1/4 CLOSED, STAINLESS STEEL BLADES,BRASS LINED,BRASS PINS,BONE HANDLES, COLLECTOR'S EDITION

12.99
EACH
H1731
Hunter's Classic Trapper North American Hunting Club
4 1/8" CLOSED,STAINLESS STEEL BLADES,BRASS LINED,BRASS PINS,BONE HANDLES,COLLECTOR'S EDITION

8.99
EACH
H1733
Hunter's Classic Muskrat North American Hunting Club
3 7/8" CLOSED,STAINLESS STEEL BLADES,BRASS LINED,BRASS PINS,BONE HANDLES COLLECTOR'S EDITION

8.99
EACH
H1738
Hunter's Classic Stockman North American Hunting Club
3 7/8" CLOSED, STAINLESS STEEL BLADES,BRASS LINED,BRASS PINS,BONE HANDLES, COLLECTOR'S EDITION

8.99
EACH
H1739
Hunter's Classic Canoe North American Hunting Club
3 5/8" CLOSED,STAINLESS STEEL BLADES, BRASS LINED, BRASS PINS,BONE HANDLES

8.99
EACH
KC5009
Kissing Crane Sodbuster Yellow Handle
3 5/8" CLOSED,STAINLESS STEEL BLADE,BRASS LINED,BRASS PINS,YELLOW COMPOSITION HANDLES

9.99
EACH
KC5011
Kissing Crane Sodbuster With Black Handles
3 5/8" CLOSED, 440 STAINLESS STEEL BLADE, BRASS LINED,BRASS PINS,BLACK COMPOSITION HANDLES

11.99
EACH
KC5024
Kissing Crane Trapper White Swirl Handles
4 1/8"440 STAINLESS STEEL BLADES,BRASS LINED,BRASS PINS, A NICE HIGH QUALITY KNIFE

17.99
EACH
KC5308
Kissing Crane Vietnam Veterans Trapper
4" CLOSED,440 STAINLESS STEEL BLADES,BEAUTIFUL HANDLES,WITH THE VIETNAM SERVICE RIBBON, BRASS LINED,BRASS PINS

24.99
EACH
KC5319
Kissing Crane Pit VIper Trapper
4 1/4" CLOSED,440 STAINLESS STEEL BLADE, BRASS LINED,BRASS PINS BONE HANDLE, A FINE COLLECTIBLE

24.99
EACH
KC5321
Kissing Crane Trapper Tennessee Whiskey Series
4 1/8" CLOSED, LIMITED EDITION, BONE AND WOOD HANDLES,STAINLESS STEEL BLADES,BRASS PINS,BRASS LINED,BRASS BOLSTERS

24.99
1 IN STOCK
KC5325
Kissing Crane Trapper Irish Saint Patrick Series
4"CLOSED,440 STAINLESS STEEL BLADES,BRASS LINED,BRASS PINS,GREEN AND WHITE BONE HANDLES,BLADES ARE LASER ENGRAVED

22.99
EACH
KC5334
Kissing Crane Trapper Firefighter Hero
4 1/8"closed,440 stainless steel blades,brass lined,brass pins,red and black bone handles,blades laser engraved

24.99
EACH
KC5341
Kissing Crane Trapper EMT Hero Series
4 1/8"CLOSED,440 STAINLESS STEEL BLADES,BRASS LINED,BRASS PINS,ORANGE AND BLACK BONE HANDLES,BLADES ARE LASER ENGRAVED

24.99
EACH
KC5364
Kissing Crane Trapper Bluegrass Music Edition
4"CLOSED,440 STAINLESS STEEL BLADES,BRASS LINED,BRASS PINS,BLACK BONE HANDLES WITH WHITE AND TURQUOISE HANDLES,BLADES ARE LASER ENGRAVED

24.99
EACH
KC5369
Kissing Crane Vietnam Veterans Trapper
4"CLOSED,440 STAINLESS STEEL BLADES,BRASS LINED,BRASS PINS,THE WORDS SAY A LOT, THIS IS A FINE KNIFE,I WAS IN VIETNAM 1965-1966

24.99
EACH
KG130
Kriegar Damascus Mother of Pearl Lockback
3 1/8" CLOSED, GENUINE MOTHER OF PEARL HANDLES, DAMASCUS STEEL BLADE, A HIGH QUALITY KNIFE, AND IS SO WELL MADE, THIS IS ONE BEAUTIFUL KNIFE

32.99
1 IN STOCK
KG131
Kriegar Damascus Abalone Lockback
3 1/4" CLOSED, DAMASCUS BLADE, ALL HAND MADE, A HIGH QUALITY KNIFE, GENUINE MOTHER OF PEARL ABALONE HANDLES WITH PLASTIC OVERLAY,YOU CAN SEE THE QUALITY IN THIS KNIFE

42.99
2 IN STOCK
KG132
Kriegar Lockback Damascus With Bone Handles
3 1/8" CLOSED, GENUINE DAMASCUS STEEL, A HIGH QUALITY KNIFE BONE HANDLES, WELL MADE EASY TO CARRY

39.99
EACH
KS1600P
Kershaw Ken Onion Chive Pink 160276
2 7/8" CLOSED, OPENS VERY FAST, VERY SHARP, HAS THE SAFETY AND POCKET CLIP, THESE ARE SOME OF THE FINEST,MADE IN THE USA

37.99
EACH
KS1620-BLK,KO
Kershaw Scallion Spring Assist Black Handles
3 1/2" CLOSED, TOP OF THE LINE QUALITY, MADE IN THE USA, KERSHAW ARE AMONG THE VERY BEST, HAS THE SAFETY AND POCKET CLIP, RAZOR SHARP

37.99
1 IN STOCK
KS1620BLK
Kershaw Scallion Assist Open Black & Black
3 1/2" CLOSED,,THESE KERSHAWS ARE OF THE FINEST,,RAZOR SHARP RIGHT OUT OF THE BOX, MADE IN THE USA, HAS THE SAFETY, AND A NICE COMFORT FIT HANDLE,,OPENS VERY FAST

37.99
EACH
KS1620BRHP
Kershaw Scallion Spring Assist Hi Point Firearms
3 1/2" CLOSED, A HIGH QUALITY MADE IN THE USA, RAZOR SHARP, HAS THE SAFETY AND POCKET CLIP,OPENS VERY FAST

29.99
EACH
KS1620ST
Kershaw Scallion Spring Assist 1620ST
3 1/2 CLOSED, STAINLESS STEEL BLADE, SPRING ASSIST,OPENS FAST,RAZOR SHARP,HAS THE POCKET CLIP AND SAFETY MADE IN THE USA

37.99
EACH
KS1660SWBLK
Kershaw Leek Spring Assist Black Handles
4" CLOSED, OPENS VERY FAST, HAS THE POCKET CLIP AND THE SAFETY, THE QUALITY IS TOP OF THE LINE, KERSHAW ARE AMONG THE BEST, MADE IN THE USA, THIS IS SUCH AN AWESOME KNIFE

39.99
each
M3504
Indian Feather Knife All Metal
3 1/2" STAINLESS STEEL BLADE,ALL METAL CONSTRUCTION,INDIAN HEAD COIN ON THE SIDE

3.99
EACH
M4315
America's Trade Barlow Handyman Club Of America
3 3/4" CLOSED,STAINLESS STEEL BLADES,BRASS LINED,BRASS PINS,NICKLE SILVER BOLSTERS POLISHED WHITE BONE HANDLES, COLLECTOR'S EDITION

8.99
EACH
MCA016
Mason Masters Collection Trapper Bone Handles
4 1/4" CLOSED,STAINLESS STEEL BLADES,BRASS LINED,BRASS PINS, THIS IS A FINE KNIFE

9.99
each
MIKOVFS
Mikov Fish Knife All Chrome Metal Handles
3" CLOSED, ALL METAL,STAINLESS STEEL BLADE MADE IN CZECH REPUBLIC

5.99
EACH
MP3314B
Moon Pie Swiss Knife
1 9/16" ACROSS, STAINLESS STEEL BLADES,ALL METAL CONSTRUCTION, A CLASSIC COLLECTIBLE

2.99
EACH
MP3314S
Moon Pie Swiss Knife
1 9/16" ACROSS, STAINLESS STEEL BLADES,ALL METAL CONSTRUCTION, A CLASSIC COLLECTIBLE

2.99
EACH
MP3314W
Moon Pie Swiss Knife
1 9/16" ACROSS, STAINLESS STEEL BLADES,ALL METAL CONSTRUCTION A CLASSIC COLLECTIBLE

2.99
EACH
MP3314Y
Moon Pie Swiss Knife
1 9/16" ACROSS,STAINLESS STEEL BLADES,ALL METAL CONSTRUCTION, A GREAT LITTLE COLLECTION

2.99
EACH
MR103
Marbles Sowbelly Brown Stag Bone Handle
3 3/4" CLOSED,440 STAINLESS STEEL BLADES,BRASS LINED,BRASS PINS, ZIPUP POUCH, A FINE QUALITY KNIFE

14.99
EACH
MR124
Marbles Congress Cut Mother Of Pearl Handle 2 Blade
3 1/4" CLOSED,440 STAINLESS STEEL BLADES,BRASS LINED, GENUINE MOTHER OF PEARL HANDLES

12.99
EACH
MR174
Marbles Sowbelly Fluted Bone Handles
3 3/4" CLOSED,440 STAINLESS STEEL BLADES,BRASS LINED,BRASS PINS, A WELL MADE KNIFE WITH FLUTED BONE HANDLES

13.99
EACH
MR196
Marbles Toothpick Brown Stag Bone Handles
3 " CLOSED, 440 STAINLESS STEEL BLADES,BRASS LINED,BRASS PINS, NICKLE SILVER BOLSTERS, GENUINE STAG BONE HANDLES,COMES WITH A ZIP POUCH, A HIGH QUALITY KNIFE

9.99
1 IN STOCK
MR254
Marbles Congress Scrimshaw Bone And Stag
4 1/4" CLOSED,440 STAINLESS STEEL BLADES,BRASS LINED,BRASS PINS BONE AND STAG HANDLES

14.99
EACH
MR275
Marbles Trapper Cattlemans Brown Bone
4 1/4" CLOSED,440 STAINLESS STEEL BLADES,BRASS LINED,BRASS PINS, GENUINE BONE HANDLES, A HIGH QUALITY KNIFE, THIS IS ONE FINE KNIFE

12.99
EACH
MR294
Marbles Sleeveboard Whittler Tortoise Handles
3 1/2" CLOSED,440 STAINLESS STEEL BLADES,BRASS LINED,BRASS PINS,NICKEL SILVER BOLSTERS, THIS IS ONE FINE KNIFE

12.99
EACH
MR298
Marbles Equil End Whittler Brown Bone
3 1/2" CLOSED,440 STAINLESS STEEL BLADES,BRASS LINED,BRASS PINS,BROWN STAG BONE HANDLES

12.99
EACH
MR298
Marbles Equil End Whittler Brown Stag Bone
3 5/8" CLOSED,440 STAINLESS STEEL BLADES,BRASS LINED,BRASS PINS,NICKLE SILVER BOLSTERS,STAG BONE HANDLES

13.99
EACH
MR299
Marbles Equil End Whittler Yellow Handle
3 1/2"E CLOSED,440 STAINLESS STEEL BLADES,BRASS LINED,BRASS PINS,A HIGH QUALITY KNIE

9.99
EACH
MR301
Marbles Trapper Hunters 3 Blade Stag Bone
3 3/4" CLOSED,STAINLESS STEEL BLADES,BRASS LINED,BRASS PINS,GENUINE STAG BONE HANDLES 3 BLADE WITH A GUT HOOK BLADE

12.99
each
MR310
Marbles Lockback Orange Composition Handles
5" CLOSED,STAINLESS STEEL BLADES,BRASS LINED,LIGHT WEIGHT, COMPOSITION HANDLES, A GREAT WORK KNIFE

6.99
1 IN STOCK
MR358
Marbles Trapper Ram Horn Handle
4 1/4" CLOSED,440 STAINLESS STEEL BLADES,BRASS LINED,BRASS PINS,GENUINE RAM HORN HANDLES

12.99
EACH
MR359
Marbles Sowbelly Ram Horn Handle
3 3/4" CLOSED,440 STAINLESS STEEL BLADES,BRASS LINED,BRASS PINS, GENUINE RAM HORN HANDLES

12.99
EACH
MR360
Marbles Canoe Ram Horn Handle
3 5/8" CLOSED,440 STAINLESS STEEL BLADES,BRASS LINED,BRASS PINS,GENUINE RAM HORN HANDLES

12.99
EACH
MR361
Marbles Congress Ram Horn Handle
3 3/4" CLOSED,440 STAINLESS STEEL BLADES,BRASS LINED,BRASS PINS,GENUINE RAM HORN HANDLES

12.99
EACH
MR363
Marbles Stockman Ram Horn Handle Handles
3 7/8" CLOSED,440 STAINLESS STEEL BLADES,BRASS LINED,BRASS PINS,GENUINE RAM HORN HANDLES

12.99
EACH
MR365
Marbles Barlow Ram Horn Handle
3 3/8" CLOSED,440 STAINLESS STEEL BLADES,BRASS LINED,BRASS PINS,GENUINE RAM HORN HANDLES

12.99
EACH
NRA412B
NRA Linerlock 2nd Amendment Knife
4 5/8" CLOSED, STAINLESS STEEL BLADE,THE HANDLE GRIP IS VERY COMFORTABLE, HAS THE POCKET CLIP, CHECK OUT THE BLADE WITH THE 2ND AMENDMENT READING,FINE QIALITY

15.99
EACH
NV116
Red Ryder Novelty Knife
3 1/2" CLOSED, SHOWING ON THE HANDLE IS RED RYDER, THESE KNIVES ARE BOXED AND LOOK JUST LIKE THE OLD NOVELTY KNIVES OF THE PAST

3.99
EACH
NV117
Hopalong Cassidy Novelty Knife
3 1/2" CLOSED, SHOWING ON THE HANDLE IS HOPPY, THESE KNIVES ARE BOXED, AND LOOK JUST LIKE THE OLD NOVELTY KNIVES OF THE PAST

3.99
EACH
NV236
Hunting Dog Knife With Brass Handles
3 3/8" CLOSED, BRASS HANDLES, A NICE EMBOSSED PICTURE OF DOGS ON BOTH HANDLES,STAINLESS STEEL BLADES, A WELL MADE KNIFE

4.99
EACH
NV240
Gene Autry Bullet Knife With White Handle
3" CLOSED, HAS ONE BLADE AND BOTTLE OPENER, THE PICTURE SHOWS BOTH SIDES OF THE KNIFE

4.99
EACH
NVTKRR
Roy Rogers Magicians Trick Knife
3 1/8" CLOSED, STAINLESS STEEL BLADE,,PIONT BLADE UPWARDS, SQUEEZE AND THE BLADE CAN BE OPENED,,POINT DOWNWARDS, SQUEEZE AND THE BLADE LOCKS CLOSED

2.99
EACH
P-38
P-38 Military Can Opener, USA Made
STANDARD MILITARY SIZE,I USED ONE OF THESE MANY TIMES IN VIETNAM, LIKE MANY MILITARY VETERANS, THESE ARE USA MADE, AND ARE NEAT

0.49
EACH
R11935RPB
Remington Lockback With Red Pick Bone Handles
3 3/4" CLOSED,STAINLESS STEEL BLADES,BRASS LINED,NICKEL SILVER PINS,A FINE QUALITY KNIFE

11.99
EACH
R11937RPB
Remington Canoe With Red Pick Bone Handles Out of Stock
3 1/2" CLOSED,STAINLESS STEEL BLADES,BRASS LINED,NICKEL SILVER PINS,A FINE QUALITY KNIFE

11.99
EACH
R11938RPB
Remington Stockman With Red Pick Bone Handles
3 7/8" CLOSED,STAINLESS STEEL BLADES,BRASS LINED,NICKEL SILVER PINS,A FINE QUALITY KNIFE

11.99
EACH
R11940GPB
Remington Lockback With Green Pick Bone Handles
3 3/4" CLOSED,STAINLESS STEEL BLADE,BRASS LINED,NICKEL SILVER PINS,A FINE QUALITY KNIFE

11.99
each
R11942GPB
Remington Canoe With Green Pick Bone Handles
3 1/2" CLOSED,STAINLESS STEEL BLADES,BRASS LINED,NICKLE SILVER PINS, A FINE QUALITY KNIFE

11.99
each
R11943GPB
Remington Stockman With Green Pick Bone Handles
3 7/8" CLOSED,STAINLESS STEEL BLADES,BRASS LINED,NICKEL SILVER PINS,A FINE QUALITY KNIFE

11.99
EACH
R1401
Rough Rider Toothpick Fishing Knife
5" CLOSED,440 STAINLESS STEEL BLADES,BRASS LINED,BRASS PINS,RED BONE HANDLES

10.99
EACH
RE18068
Remington Trapper With Green Bone Handles
3 3/4"CLOSED,440 STAINLESS STEEL BLADES,BRASS LINED,BRASS PINS,NICKEL SILVER BOLSTERS,POLISHED GREEN BONE HANDLES A HIGH QUALITY KNIFE

12.99
EACH
RE18076
Remington Trapper With Green Bone Handles
3 1/2" CLOSED,STAINLESS STEEL BLADES,BRASS LINED,BRASS PINS,POLISHED GREEN BONE HANDLES

12.99
EACH
RK2211PK
Robert Klaas Trapper Pink Handles
4 1/8" CLOSED,440 STAINLESS STEEL BLADES,BRASS LINED,BRASS PINS,BRASS BOLSTERS, A FINE KNIFE

16.99
EACH
RK2214
Robert Klaas Copperhead Black Handles
3 3/4" CLOSED, 440 STAINLESS STEEL BLADES, BRASS LINED, BRASS PINS,BRASS BOLSTERS, A FINE KNIFE

16.99
EACH
RK2329
Robert Klaas Stockman Black Handle
3 3/8" CLOSED, 440 STAINLESS STEEL BLADES,BRASS LINED,BRASS PINS,BLACK DELRAN HANDLES

16.99
EACH
RK2426
Robert Klaas Congress Black Handles
3 5/8"CLOSED,440 STAINLESS STEEL BLADES,BRASS LINED,BRASS PINS,BLACK COMPOSITION HANDLES

16.99
EACH
RK3233
Robert Klaas Toothpick Fishing Knife
4 1/2" CLOSED,440 STAINLESS STEEL BLADES,BRASS LINED,BRASS PINS,YELLOW HANDLES, AND PLENTY OF QUALITY

15.99
EACH
RK3331
Robert Klass Whittler Lockblade Yellow Handle
4 1/8" CLOSED,THREE STAINLESS STEEL BLADES,THE MAIN BLADE IN A LOCK-BACK,BRASS THIS IS A HIGH QUALITY WELL MADE KNIFE

17.99
EACH
RK4211
Robert Klaas Trapper White Swirl Handle
4 1/8" CLOSED,440 STAINLESS STEEL BLADES,BRASS LINED,BRASS PINS,A HIGH QUALITY KNIFE

16.99
EACH
RK6214BR
Robert Klaas Copperhead Amber Bone Handles
3 3/4" CLOSED,440 STAINLESS STEEL BLADES,BRASS LINED,BRASS PINS,NICKEL SILVER BOLSTERS, A HIGH QUALITY KNIFE

17.99
EACH
RK6217BR
Robert Klaas Canoe Amber Bone Handle
3 1/4" closed,stainless steel blades,brass lined,genuine bone handles,and a high quality knife

15.99
each
RK6328
Robert Klaas Stockman Amber Bone Handles
3 1/2" CLOSED,440 STAINLESS STEEL BLADES,BRASS LINED,BRASS PINS,GENUINE AMBER BONE HANDLES

17.99
EACH
RK6331BR
Robert Klaas Whittler Lockblade Amber Bone
4 1/8" CLOSED, 4 STAINLESS STEEL BLADES,BRASS LINED BRASS PINS,BONE HANDLES, A HIGH QUALITY KNIFE

21.99
EACH
RK9211
Robert Klaas Trapper Ram Horn Handle
4 1/8" CLOSED CLOSED,BRASS LINED.STAINLESS STEEL BLADES,GENUINE RAM HORN HANDLES, A HIGH QUALITY KNIFE

17.99
EACH
RK9214
Robert Klaas Copperhead Ram Horn Handle
3 3/4" CLOSED,BRASS LINED,STAINLESS STEEL BLADES,GENUINE RAM HORN HANDLES,A HIGH QUALITY KNIFE

17.99
EACH
RK9325
Robert Klaas Stockman Ram Horn Handle
4" CLOSED, BRASS LINED,STAINLESS STEEL BLADES,GENUINE RAM'S HORN HANDLE, A HIGH QUALITY KNIFE

17.99
EACH
RR100M
Rough Rider Trapper Masonic White Bone Handles
3 1/2" CLOSED,SMOOTH WHITE BONE HANDLES WITH MASONIC LOGO,440 STAINLESS STEEL BLADES,BRASS LINED

9.99
EACH
RR1044
Rough Rider Whittler Polished Black Bone
3 7/8" CLOSED,440 STAINLESS STEEL BLADES,BRASS LINED,BRASS PINS POLISHED BLACK BONE HANDLES

9.99
EACH
RR1045
Rough Rider Whittler Amber Bone
3 7/8" CLOSED,440 STAINLESS STEEL BLADES,BRASS LINED,BRASS PINS AMBER BONE HANDLES

9.99
EACH
RR1056
Rough Rider A Stroke of Luck Trapper
4 1/8" CLOSED,440 STAINLESS STEEL BLADES,BRASS LINED,BRASS PINS, POLISHED GREEN BONE HANDLES, CHECK OUT THE ETCHING ON THE BLADE, THESE ARE BEAUTIFUL KNIVES

12.99
EACH
RR1058
Rough Rider A Stroke of Luck Whittler
3 1/2" CLOSED,BRASS LINED, BRASS PINS,440 STAINLESS STEEL BLADES, BEAUTIFUL GREEN BONE HANDLES, AND CHECK OUT THE ETCHING ON THE BLADE

12.99
EACH
RR1060
Rough Rider A Stroke of Luck Stockman 6 Blade
4" CLOSED,440 STAINLESS STEEL BLADES,BRASS LINED,BRASS PINS,GREEN BONE HANDLES, A BEAUTIFUL KNIFE

14.99
1 IN STOCK
RR1061
Rough Rider A Stroke of Luck Trapper
3 1/2" CLOSED,440 STAINLESS STEEL BLADES,BRASS LINED,BRASS PINS,POLISHED GREEN BONE HANDLES,CHECK OUT THE ETCHING ON THE BLADE

12.99
EACH
RR1062
Rough Rider A Stroke of Luck Canoe
3 5/8" CLOSED,440 STAINLESS STEEL BLADES,BRASS LINED,BRASS PINS,POLISHED GREEN BONE HANDLES,CUSTOM ETCHING ON THE BLADE

12.99
EACH
RR1071
Rough Rider Trapper Lockback Yellow Handle
4" CLOSED, A LOCKBACK TRAPPER, YELLOW HANDLES, ONE BLADE IS STANDARD AND THE OTHER IS A LOCKBACK, ONE AWESOME KNIFE,440 STAINLESS STEEL BLADES

9.99
EACH
RR1088
Rough Rider Congress Hot Pink Bone
3 3/4" CLOSED,440 STAINLESS STEEL BLADES,BRASS LINED,BRASS PINS,PINK BONE HANDLES, DESIGNED BOLSTERS

10.99
EACH
RR1101
Rough Rider Trapper 5 Blade Yellow Handle
4 1/8" CLOSED,440 STAINLESS STEEL BLADES,BRASS LINED,BRASS PINS,YELLOW HANDLES,CHECK OUT THE DIFFERENT BLADES, A HIGH QUALITY KNIFE AND ONE AWESOME COLLECTIBLE

9.99
EACH
RR1102
Rough Rider Trapper 5 Blade Brown Bone
3 1/2 CLOSED,440 STAINLESS STEEL BLADES,BRASS LINED,BRASS PINS, 5 BLADES, BONE HANDLES

9.99
1 IN STOCK
RR1107
Rough Rider Peanut 5 Blade Yellow Handle
2 3/4" CLOSED,440 STAINLESS STEEL BLADES,BRASS LINED,BRASS PINS, YELLOW HANDLES, A HIGH QUALITY LITTLE KNIFE THAT WILL GET THE ATTENTION

8.99
EACH
RR1119
Rough Rider Heart Awareness Barlow
2 5/8" CLOSED, 44O STAINLESS STEEL BLADE, RED BONE HANDLES, A HIGH QUALITY KNIFE, A PORTION OF THE FUNDS WILL GO TO THE HEART FOUNDATION

5.99
EACH
RR1121
Rough Rider Cancer Awareness Pink Bone Leg Knife
5" CLOSED, PINK BONE HANDLES, 440 STAINLESS STEEL BLADE,A PORTION GOES TO, UT MEDICAL CENTER CANCER INSTITUTE

9.99
EACH
RR1123
Rough Rider Heart Awareness 5" Leg Knife
5" CLOSED, RED BONE HANDLES, 440 STAINLESS STEEL BLADE, A PORTION GOES TO, THE UT MEDICAL CENTER

9.99
EACH
RR1148
Rough Rider Battle Axe White Bone Sowbelly
3 1/2"CLOSED,440 STAINLESS STEEL BLADES,BRASS LINED,BRASS PINS,WHITE BONE HANDLES

9.99
EACH
RR1156
Rough Rider Stockman 6 Blade Armor Hide Bone
4" CLOSED,440 STAINLESS STEEL BLADES,BRASS LINED,BRASS PINS,GENUINE BONE HANDLES WITH THE ARMOR HIDE PATTERN

10.99
EACH
RR1163
Rough Rider Stoneworx Custom Leg Knife
5" CLOSED,440 STAINLESS STEEL BLADES,CUSTOM DESIGN HANDLES,ABALONE,TURQUOISE,MOTHER OF PEARL INLAY, A HIGH QUALITY KNIFE

15.99
EACH
RR1184
Rough Rider Sowbelly 5 Blade Brown Bone Handles
3 3/4" CLOSED,440 STAINLESS STEEL BLADES,BRASS LINED,BRASS PINS, A FINE QUALITY KNIFE

9.99
EACH
RR1204
Rough Rider Melon Knife Purple Swirl Handle
5 3/8" CLOSED,440 STAINLESS STEEL BLADE,BRASS LINED, A WELL MADE KNIFE,PURPLE/SWIRL COMPOSITION HANDLES BRASS PINS, A HIGH QUALITY KNIFE

9.99
EACH
RR1221
Rough Rider Masonic Blue Bone Handle Barlow
3 3/8" CLOSED,440 STAINLESS STEEL BLADES,BRASS LINED,BRASS PINS,POLISHED BLUE BONE HANDLES WITH THE MASONIC SHIELD ON THE HANDLE

14.99
each
RR1222
Rough Rider Masonic Blue Bone Handle Congress
3 3/8" CLOSED, BLUE BONE HANDLES,440 STAINLESS STEEL BLADES,BRASS LINED,BRASS PINS,POLISHED BLUE BONE HANDLES,CUSTOM ETCHING ON THE BLADE,THE MASONIC SHIELD ON THE HANDLE

14.99
each
RR1225
Rough Rider Masonic Blue Bone Handle Trapper
3 1/2" CLOSED,BRASS LINED,440 STAINLESS BLADES,BRASS LINED,BRASS PINS,POLISHED BLUE BONE HANDLES

14.99
EACH
RR1226
Rough Rider Vietnam Brotherhood Trapper
4 1/8" CLOSED,RED,GREEN,YELLOW TURQUOISE HANDLES,440 STAINLESS STEEL BLADES,BRASS LINED,IN HONOR OF THOSE WHO SERVED ON ONE BLADE, AND THE BROTHERHOOD ON THE OTHER,

14.99
EACH
RR1321
Rough Rider Cowboy Hat Knife Black Bone
1 7/8" CLOSED,440 STAINLESS STEEL BLADE,BRASS LINED,BLACK BONE HANDLES

5.99
EACH
RR1322
Rough Rider Cowboy Hat Knife Pink Bone
1 7/8" CLOSED,440 STAINLESS STEEL BLADE,BRASS LINED, PINK BONE HANDLES, A NICE COLLECTIBLE

5.99
EACH
RR1323
Rough Rider Cowboy Hat Knife Brown Bone
1 7/8" CLOSED, 440 STAINLESS STEEL BLADE,BRASS LINED, BROWN BONE AND A NICE COLLECTIBLE

5.99
EACH
RR1384
Rough Rider Trapper Bark Bone Handles
4 1/8" CLOSED,440 STAINLESS STEEL BLADES,BRASS LINED,BRASS PINS,BARK BONE HANDLES

10.99
EACH
RR1389
Rough Rider Ovarian Cancer Awareness Leg Knife
3 1/4" CLOSED,BLUE BONE HANDLES,440 STAINLESS STEEL BLADE, A NICE COLLECTIBLE OR SPECIAL GIFT

9.99
EACH
RR1390
Rough Rider Stockman Don't Tread On Me
3 7/8" CLOSED,440 STAINLESS STEEL BLADES,BRASS LINED,BRASS PINS,POLISHED YELLOW BONE HANDLES LASER ETCHED HANDLES, THESE ARE NICE COLLECTIBLES

12.99
each
RR1393
Rough Rider Vietnam Brotherhood Stockman
4 1/4" CLOSED,440 STAINLESS STEEL BLADES,BRASS LINED,CUSTOM IMITATION TURQUOISE HANDLES, LASER ETCHED ON THE BLADE, THE BROTHERHOOD WITH THE CHOPPERS,THIS IS AN AWESOME COLLECTIBLE

15.99
EACH
RR1402
Rough Rider Veteran Of Iraq War Trapper
4 1/8" closed,440 stainless steel blades,brass lined,a fine collectible and gift,,Thank you for your service

14.99
each
RR1403
Rough Rider Veteran Of Desert Storm Trapper
4 1/8" CLOSED,440 STAINLESS STEEL BLADES,BRASS LINED,A HIGH QUALITY KNIFE, THE DESERT STORM MILITARY RIBBON

14.99
EACH
RR1420
Rough Rider Stoneworx Custom Toothpick
3" CLOSED, 440 STAINLESS STEEL,BRASS LINED,MOTHER OF PEARL, RED TURQUOISE AND ABALONE INLAY ON THE CUSTOM HANDLES

11.99
EACH
RR1433
Rough Rider Trapper American Ace Edition
4 1/8" CLOSED,440 STAINLESS STEEL BLADES,BRASS LINED,NICE ETCHING ON THE BLADE, CHECK OUT THE AWESOME HANDLES

12.99
EACH
RR1434
Rough Rider Trapper American Hero Edition
4 1/8" 440 STAINLESS STEEL BLADES,BRASS LINED,CUSTOM MADE HANDLES,A VERY NICE COLLECTIBLE

12.99
EACH
RR1497
Rough Rider Christ On The Cross Brass Knife
2 1/2" CLOSED, 440 STAINLESS STEEL BLADE,ALL BRASS CONSTRUCTION, WILL MAKE A NICE GIFT

5.99
EACH
RR1510
Rough Rider Ram Horn Bone Canoe
3 5/8" CLOSED,440 STAINLESS STEEL BLADES,BRASS LINED,GENUINE BONE HANDLES

12.99
EACH
RR204
Rough Rider French Tickler Brown Bone Handles
4 1/4" closed,Brass lined,Brass bolsters,440 stainless steel blade,bone handles,and has the lockbacl,this is a very well made knife.

9.99
each
RR215
Rough Rider Mini Cross Knife Mother of Pearl
ONLY MEASURES 1 1/8" CLOSED, GENUINE MOTHER OF PEARL HANDLES, ONE NEAT LITTLE KNIFE, IT'S MADE TO PUT ON A LITTLE CHAIN TO WEAR AROUND YOUR NECK.

6.99
EACH
RR221
Rough Rider Lockback All Stainless Steel
3" CLOSED,440 STAINLESS STEEL BLADE, STAINLESS STEEL HANDLES,LOCKBACK, A GOOD KNIFE TO CARRY AND GREAT FOR ENGRAVING

4.99
EACH
RR282
Rough Rider Whittler Red Bone
3 1/2" CLOSED, STAINLESS STEEL BLADES,BRASS LINED,BRASS PINS,RED BONE HANDLES

10.99
EACH
RR296
Rough Rider Congress Mother Of Pearl Handle
4" CLOSED,440 STAINLESS STEEL BLADES,BRASS LINED,BRASS PINS,GENUINE MOTHER OF PEARL HANDLES, A FINE COLLECTIBLE

12.99
each
RR298
Rough Rider Stockman Red Bone
4 1/4" CLOSED,440 STAINLESS STEEL BLADES,BRASS LINED,BRASS PINS,GENUINE RED BONE HANDLES A BIG BRUTE

9.99
EACH
RR3 RYDER
Red Ryder 75th Anniversary Bowie Knife
14" LONG,A VERY BEAUTIFUL COLLECTIBLE, HAS THE DISPLAY STAND, WELL MADE,WITH MUCH DISPLAY ON THE BLADE

29.99
EACH
RR417
Rough Rider Whittler Orange Bone
3 1/4" CLOSED,440 STAINLESS STEEL BLADES,BRASS LINED,BRASS PINS,POLISHED ORANGE BONE HANDLES

9.99
EACH
RR460MD
Rough Rider Mother's Day Red Bone Congress
3 5/8" CLOSED,440 STAINLESS STEEL BLADES,BRASS LINED,BRASS PINS RED BONE HANDLES,LASER ENGRAVED ON THE HANDLE

10.99
EACH
RR471
Rough Rider Congress Saw Cut Bone Handles
3 5/8" CLOSED,440 STAINLESS STEEL BLADES,BRASS LINED,BRASS PINS,ONE BEAUTY.THE QUALITY IS TOP OF THE LINE

9.99
EACH
RR471TR
Rough Rider Congress Texas Ranger Sawcut Bone
3 5/8" CLOSED,440 STAINLESS STEEL BLADES,BRASS LINED,BRASS PINS,SAW-CUT BONE HANDLES WITH THE TEXAS RANGER BADGE ON THE HANDLE

10.99
EACH
RR473
Rough Rider Sawcut Bone Copperhead
3 3/4" CLOSED,440 STAINLESS STEEL,BRASS LINED, SAW CUT BONE HANDLES, TOP OF THE LINE QUALITY.

10.99
each
RR476
Rough Rider Stockman Sawcut Bone Handles
3 1/2" CLOSED,440 STAINLESS STEEL BLADES,BRASS LINED,BRASS PINS,DESIGNED BOLSTERS,GENUINE SAWCUT BONE HANDLES

10.99
EACH
RR480
Rough Rider Whittler Sawcut Bone Handles
3 1/2" CLOSED,440 STAINLESS STEEL BLADES,BRASS LINED,BRASS PINS,DESIGNED BOLSTERS, BONE HANDLES

10.99
EACH
RR484
Rough Rider Stockman Sawcut Bone Handles
3 3/8" CLOSED,440 STAINLESS STEEL BLADES,BRASS LINED,BRASS PINS,DESIGNED BOLSTERS,GENUINE SAWCUT BONE HANDLES

10.99
EACH
RR485
Rough Rider Muskrat Sawcut Bone Handles
3 7/8" CLOSED,440 STAINLESS STEEL BLADES,BRASS LINED BRASS PINS,DESIGNED BOLSTERS,GENUINE SAWCUT BONE HANDLES

10.99
EACH
RR491TR
Rough Rider Congress Texas Ranger Tortoise Handles
3 5/8" CLOSED, 4 BLADES, IMITATION TORTOISE SHELL HANDLES. A HIGH QUALITY KNIFE, BRASS LINED.440 STAINLESS STEEL BLADES

9.99
EACH
RR496
Rough Rider Whittler Tortoise Handles
3 1/2" CLOSED,440 STAINLESS STEEL BLADES,BRASS LINED,BRASS PINS,IMITATION TORTOISE HANDLES

9.99
EACH
RR524
Rough Rider Clasp Deer Slayer Sawcut Bone
3 3/4 CLOSED,440 STAINLESS STEEL BLADES,BRASS LINED,BRASS PINS,SAWCUT BONE HANDLES DESIGNED BOLSTERS

14.99
EACH
RR628
Rough Rider Cancer Awareness Peanut
2 3/4" CLOSED, PINK BONE HANDLES,BRASS LINED,440 STAINLESS STEEL BLADES, TOP QUALITY, UT MEDICAL CENTER CANCER INSTITUTE,,CANCER AWARENESS

8.99
each
RR673
Rough Rider Congress Gunstock Bone Handle
3 5/8" CLOSED, 440 STAINLESS STEEL BLADES,BRASS LINED,BRASS PINS,BONE HANDLES

9.99
1 IN STOCK
RR704
Rough Rider Rifleman Brown Bone Copperhead
3 1/2" CLOSED, 440 STAINLESS STEEL BLADES,BRASS LINED,BRASS PINS,GUNSTOCK BONE HANDLES

10.99
1 IN STOCK
RR758
Rough Rider Coal Miner Trapper
4 1/8" CLOSED,440 STAINLESS STEEL BLADES,BRASS LINED,BRASS PINS,BLACK BONE HANDLES

10.99
EACH
RR811B
Rough Rider Mini Stockman Yellow Handle
2" CLOSED,440 STAINLESS STEEL BLADES,BRASS LINED,STEEL PINS,YELLOW HANDLES

4.99
EACH
RR812B
Rough Rider Mini Stockman Tortoise Handle
2" CLOSED,440 STAINLESS STEEL BLADES,BRASS LINED,BRASS PINS,IMITATION TORTOISE SHELL HANDLES

4.99
EACH
RR831
Rough Rider Congress Pink Lemonade Bone
3 5/8" CLOSED,440 STAINLESS STEEL BLADES ,BRASS LINED,BRASS PINS POLISHED PINK BONE HANDLES

9.99
EACH
RR859
Rough Rider Peanut Saddle Horn Yellow Handle
2 1/2" CLOSED, 440 STAINLESS STEEL BLADES, BRASS LINES,A HIGH QUALITY KNIFE,YELLOW HANDLES

6.99
EACH
RR890
Rough Rider Fiddleback Stockman Yellow Handle
3 3/8" CLOSED, 440 STAINLESS STEEL BLADES, BRASS LINED, A HIGH QUALITY KNIFE, AND SO WELL MADE

7.99
EACH
RR908
Rough Rider Stoneworx Custom Congress
3 1/2" CLOSED, 4 BLADES,TURQUOISE,ABALONE,& MOTHER OF PEARL, A HIGH QUALITY KNIFE 440 STAINLESS STEEL BLADES,BRASS LINED AND BRASS PINS

15.99
each
RR909
Rough Rider Canoe Stoneworx Custom Handles
3 1/2" CLOSED,440 STAINLESS STEEL,BRASS LINED, MOTHER OF PEARL,RED & BLUE TURQUOISE, AND ABALONE HANDLES

15.99
EACH
RR912
Rough Rider Stoneworx Custom Sunfish
MEASURES 3" CLOSED, MOTHER OF PEARL, AND MOTHER OF PEARL ABALONE INLAY ON THE HANDLES, THE QUALITY IS AS GOOD AS IT GETS

15.99
EACH
RR918
Rough Rider Stoneworx Custom Trapper
4 1/4" CLOSED,440 STAINLESS STEEL BLADES,BRASS LINED,MOTHER OF PEARL AND ABALONE INLAY HANDLES WITH RED AND BLUE TURQUOISE ON THE HANDLES, THESE ARE BEAUTIFUL KNIVES

15.99
EACH
RR953
Rough Rider Jim Bowie Muskrat
3 3/8" CLOSED,440 STAINLESS STEEL BLADES,BRASS LINED,BRASS PINS, SAWCUT BONE HANDLES

12.99
EACH
S275HP
Schrade Hoof Knife With Yellow Handle
3 5/8" CLOSED, AS YOU CAN SEE, THIS IS THE KNIFE FOR THE JOB,,VERY WELL MADE, GOOD BACK SPRING AND GREAT QUALITY

6.99
EACH
SCH9UH
Schrade Uncle Henry Cigar Whittler
4 " CLOSED, STAINLESS STEEL BLADES,BRASS LINED,BRASS PINS,IMITATION BONE HANDLES,A WELL MADE KNIFE

21.99
EACH
SCHTBC
Schrade Box Cutter Knife Custom Engraved to Your Choice
7" CLOSED, ALUMINIUM HOUSING,RUBBER TRIM AND RUBBER HAD GUARD, BLADE WILL LOCK OPEN,LEVER ON THE OTHER SIDE TO KEEP THE BLADE LOCKED OPEN,,RAISE THE HANDLE AND HAS 5 MORE BLADES,,THIS IS ONE AWESOME UTILITY KNIFE

8.99
EACH
SCN121ACTS
Acts 2:38 Swiss Office Knife Made In Germany
3 3/8" CLOSED, STAINLESS STEEL BLADES,ALL METAL, MADE VERY WELL AND MADE IN GERMANY, A FINE COLLECTIBLE

7.00
each
SCN121CAAS
Chet Atkins Appreciation Society Swiss Office Knife
3 3/8" CLOSED, STAINLESS STEEL BLADES, ALL METAL CONSTRUCTION, LIGHT WEIGHT, MADE IN GERMANY

7.00
Each
SCN121CHS
Cohn High School Swiss Office Knife Made In Germany
3 3/8" CLOSED, STAINLESS STEEL BLADES, ALL METAL, MADE IN GERMANY

7.00
35 in stock
SCN121P
Peterbilt Swiss Office Knife Made In Germany
3 3/8" CLOSED, MADE IN GERMANY, ALL METAL,STAINLESS STEEL BLADES, A NICE COLLECTIBLE

7.00
4 IN STOCK
SCN121PY
Paul Yandell C.G.P. Swiss Office Knife Made in Germany
3 1/8" CLOSED, STAINLESS STEEL BLADES,BRASS LINED,ALL METAL,MADE IN GERMANY, LASER ENGRAVED,PAUL YANDELL CGP, MY HERO

7.00
EACH
SCN121SC
Shriner & Child Swiss Office Knife Made In Germany
3 1/4" CLOSED, STAINLESS STEEL BLADES,BRASS PINS,ALL METAL,MADE IN GERMANY, THE SHRINER AND CHILD IS LASER ENGRAVED ON THE HANDLE

7.00
EACH
SCN121SL
Shriner Swiss Office Knife Made In Germany
3 1/4" CLOSED, STAINLESS STEEL BLADES,BRASS PINS, ALL METAL, MADE IN GERMANY, HAS THE SHRINER LOGO LASER ENGRAVED ON THE HANDLE

7.00
EACH
SH1003
Cowboy Boot Black Leather Knife Holster Sheath
4"BLACK LEATHER, HOLDS A 3 TO A 4 INCH FOLDING KNIFE,A NICE COLLECTIBLE

4.99
EACH
SLEG1L
Schrade Walden Leg Knife All American
5" CLOSED, A BEAUTY,SCHRADE WALDEN ETCHED ON THE BLADE, A FINE COLLECTIBLE,AND GREAT COLLECTIBLE

7.99
EACH
SP4
Schrade Trapper Dead Man's Hand
4 1/8" CLOSED,STAINLESS STEEL BLADES, BONE HANDLES,A FINE COLLECTIBLE

21.99
EACH
SU907
Knife Belt Pouch For Your Box Cutter
THIS WILL HOLD A KNIFE UP TO 4" CLOSED, HAS THE METAL CLIP ON BELT CLIP, VERY WELL MADE, HAS A PLACE FOR REPLACEMENT BLADES IT YOU CARRY A BOX CUTTER TYPE KNIFE OR IT WILL WORK FOR A REGULAR POCKET KNIFE.

1.99
EACH
SW50BT
Smith & Wesson Switchblade Extreme Ops Tanto Standard
4 1/2" CLOSED,440 STAINLESS STEEL BLADE,VERY WELL MADE,HAS THE POCKET CLIP AND SAFETY

29.99
EACH
SWCK1027A
Smith & Wesson Trapper Abalone Handles
4" CLOSED, STAINLESS STEEL BLADES,BRASS LINED,BRASS PINS IMITATION ABALONE HANDLES

11.99
EACH
SWCK1027TX
Smith & Wesson Trapper Texas Hold'em
4 1/8" CLOSED, STAINLESS STEEL BLADES,BRASS LINED,BRASS PINS, CRACKED ICE HANDLES

12.99
EACH
SWCK1029
Smith & Wesson Texas Hold'Em Sowbelly
3 1/2" CLOSED,STAINLESS STEEL BLADES,BRASS LINED,BRASS PINS,CRACKED ICE HANDLES

11.99
EACH
SWLPR
Smith & Wesson Little Pal Linerlock Rainbow
3 " CLOSED, HIGH CARBON STAINLESS STEEL, A WELL MADE KNIFE, AND A NICE COLLECTIBLE, BOXED

7.99
EACH
SWTH4BC
Smith & Wesson Congress Texas Hold'em
3 5/8" CLOSED,STAINLESS STEEL BLADES,BRASS LINED,BRASS PINS, CRACKED ICE HANDLES

12.99
EACH
SWTHCH
Smith & Wesson Copperhead Texas Hold'em
3 3/4" CLOSED,HAMMER FORGED BLADES,BRASS LINED,BRASS PINS,BRASS BOLSTERS,CRACKED ICE HANDLES

11.99
1 IN STOCK
SWTHCN
Smith & Wesson Canoe Texas Hold'em
3 5/8" CLOSED,HAMMER FORGED BLADES,BRASS LINED,BRASS PINS,BRASS BOLSTERS,CRACKED ICE HANDLES

11.99
EACH
TKKT5002SER
Tekut Portable Multi-Functional Pliers
6 1/2" CLOSED,WINE BOTTLE OPENER,CORKSCREW,WRENCH,SCREWDRIVER,WIRE CUTTER,KNIFE BLADE,MINI FLASHLIGHT THIS IS A FINE TOOL

15.99
EACH
UC1338
Knife Storage Case Holds 40
14" X 10 1/2" X 1 3/8" HOLDS UP TO 40 KNIVES DEPENDING ON SIZE, GRAB HANDLE,PADDED, A NICE ZIP UP POUCH

14.99
EACH
VN2670
Vietnam Veteran Never Forget Coin Medallion
1 7/16" or 36mm, ABOUT THE SIZE OF 50 CENT TO A SILVER DOLLAR, BRASS, A BEAUTIFUL ITEM, I WAS IN VIETNAM IN 1965-1966 FIRST AIR CAV COMBAT MEDIC

10.99
EACH
XL914
Tomahawk Fruit Knife Or Letter Opener
4 1/4" CLOSED, 440 STAINLESS STEEL BLADE,WOOD HANDLES, A NICE KNIFE,LETTER OPENER, MELON TESTER, OR JUST TO COLLECT

7.99
EACH
Rough Rider, Schrade, Marbles, Kissing Crane, Robert Klaas,Kershaw,Butterfly Knives, Switchblade and Spring Assist Knives