ENTER OUR STORE | CONTACT US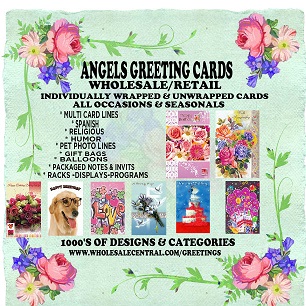 ANGELS GREETING CARDS WHOLESALE/.25 CENTS & UP
Multi Greeting Card Lines Free Ship & More
*Why $ Pay $ More -Buy Direct & Save- No Middleman, Arizona 85750
United States
Tel: 1-520-529-8551, Toll Free: 1-800-701-3599
Fax: 1-866-438-3091
Email Us: angelsstockwell@yahoo.com
1000'S OF 1ST QUALITY PREMIUM POPULAR GREETING CARDS & MORE 4 $$$ DOLLAR STORES & UP*PROFITABLE4U!
A/O-SEASONS-RELIGIOUS-HUMOR -SPANISH-ANIMAL PHOTOS-DISPLAYS- PROGRAMS -SET-UPS
ABOUT US:
Angels Greeting Cards & More Wholesale/Manufacturer Of Top Quality #1 Selling Greeting Cards In The Industry.Individually Wrapped Cards Also Available Options $1.50 1/2 DZ./$3.00 1 DZ..Direct from top USA manufacturer.No middle man. We offer 1000's of 1st quality exclusive luxury top selling greeting cards-packaged note cards,invitations at lowest cost price.Why$Pay$More.Servicing all 2/$1.00,.99 cent,50% off & full retail stores all across the country.Our biggest sellers are our made in the usa greeting card lines,all occasions,seasonals,spanish,religious,& famous humorville line.Full color graphics,die cuts, foils & embossing.Luxury & exclusive cards comparable to other very high end lines. Usa high retails $2.25-$5.00 and usa logos on all.We also offer the best no contract-no games-no gimmick greeting card displays-programs-planograms-easy store set-ups-free signs-graphics-locater cards in the business. We are always getting in new products direct from manufacturer to save you time & $$$$ Gift Bags-Tissue-Fashion Jewlery-Balloons & More It's easy to shop with us online,by fax or phone. *Customer service our #1 top priority*
TERMS:
All Major Credit Cards-Debit Cards & Pre-Pays are accepted!
PAYMENT ACCEPTED:
Pay Pal,Visa,Mastercard,American Express,Discover,Money Orders,Pre-Pay.*It's easy to shop with us!
MINIMUM ORDER :
*Free ship available in usa on larger order amounts **You can download all our orders forms @ www.angelsstockwellgreetings.com
LITERATURE AVAILABLE :
call for free samples and new order forms
SHIPPING METHODS:
Ups/United Parcel Service Ground/Fed Ex Ground *Overnight-2nd & 3rd day air also available*
RETURN POLICY:
Call,Email or go online for Further info! Phone:1-520-529-8551/1-800-701-3599 Email:angelsstockwell@yahoo.com Web site:www.angelsstockwellgreetings.com
SAMPLE PACKS AVAILABLE:
Email with full address & phone/fax numbers or call. For sample or sample sheet & order forms faxed to you. New Greeting Card lines-seasonal & other items are arriving daily and are available4u @ unbeatable prices!
TRADESHOW SCHEDULE :
** To Be Posted **