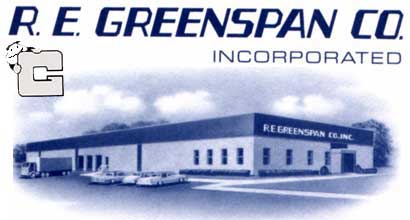 R.E. GREENSPAN CO., INC.
2100 Byberry Road
Philadelphia, Pennsylvania 19116-3026 United States
Toll-Free: 800-333-0180
Phone: 215-676-0400, Fax: 215-676-1704
E-Mail: regreenspantoys@verizon.net

---
Minimum Order: $100.00
PLEASE SELECT A CATEGORY ON THE LEFT SIDE, UNDER DIRECTORY.
Then, click on the individual items for larger pictures & quantity discounts.

(*) in price column means Quantity Discounts Available!
Click on item name to see full details and picture if available.

Item #
Description
Price
Unit
4910
CHARLEY CHIMP
In the "Toy Story 3" movie, he's the security guard at the day care center. He clangs his cymbols and if you tap his his head, he screams, shows his teeth and pops his eyes in & out. Height:11". Uses 2 "D" batteries (not incl.) Packed 6 pcs per case. $23.60 each.

141.60
carton of 6 pcs.
5403
SINGING SNOWMAN, PUP & REINDEER
Sings "We Wish You a Merry Christmas" with intermittent barking. Uses 3 AA batteries. White box with full color label. Packed 2 pieces per case. $9.50 each. Qty: 98

19.00
carton of 2
6013
PHANTOM ON MOTORCYCLE
Motor revs as it rocks side-to-side with the phantom rider moving realistically. Sings "Disco Inferno", along with great motor sounds and flashing headlight. Length: 14". Requires 3 "AA" batteries. You must see and hear it! Comes in a "try me" box. Packed 6 per case. $15.50 each. Qty: 1641

93.00
carton of 6
80016
CHIP, THE HECKLING & SINGING ANIMATED GOLF BAG
You must see and hear this one! Clap your hands to start the very amusing voice and action! Height: 12". Comes with 3 "AA" batteries. Packed 12 pieces per case. $10.50 each. Qty: 214

126.00
carton of 12
Credit cards accepted through PayPal only. PayPal is a service to make fast, easy, and secure payments for your purchases!