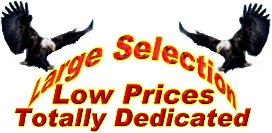 THE BARGAIN OUTLET WHOLESALE
Mail 608 S. 2nd Street
Marshall, Illinois 62441 United States
Phone: 217-826-6230, Fax: 217-826-6230
E-Mail: bargainoutlet@frontier.com

---
Minimum Order: $115.00
Large Selection @ Low Prices! Your Business Is The Most Important Thing To Our Business!
**Check out the MANY SPECIALS**(SAFE & SECURE), Fast Service,

REMINDER: Book Mark This Site For All the Newest Arrivals & SPECIALS! Site updated weekly.

(*) in price column means Quantity Discounts Available!
Click on item name to see full details and picture if available.

Item #
Description
Price
Unit
bacolli
12" Light Up Collapsible Ball $1.75
Unique sphere expandable - contracting light up ball.

* 24.00
Dozen
Clearance
25% OFF Gifts
SAVE 25% OFF Chickens, Dogs, Cats, Frogs, Wolves, Inspirational, Apple Items, Cookie Jars, Christmas, & Clocks.

CALL
Each (Minimum $200 Clearance Items)
nvhaircolor
Color Hair Spray $1.24
Assorted BRIGHT colors per display.

* 1.40
Each (Minimum 12 pieces)
n3016
Flashing Light Up Mouth Piece # 1 Light Up $0.727
A MUST FOR DANCES & NEW YEARS PARTIES! Hot, HOT ITEM!

* 9.75
Dozen (2 Dz increments)
bf074009aa
Gallop Semi With Trailer Assortment
2 Assorted friction trucks.

1.17
Each (Minimum 12 sets)
20160930-60
i. Deluxe Inflate Assortment - 60 Pieces
Assortment of character, animal, sword, & guitar inflates. Get more bang for your buck with little investment.

1.38
Each Piece (Minimum 60 pieces)
inpanpengkitasst
i. Pink Panda - Penguin - Kitten Inflate Assortment
Adorable Pandas, Penguins, and Kittens.

18.25
Dozen
nv1475
Inspirational Stones .54
Assorted colors and sayings per display box.

* 0.61
Each (Minimum 48 pieces)
a.61831y
Ivory Look 3" Folding Knife **$3.60 25% OFF
3" Pocket Knife with ivory look handle. *SEE SPECIAL PRICING.

* 4.89
Each (Minimum 3 Pcs.)
nv1488z
j: Zoo Animal Rings .29
Cute children's animal rings. As Low as $3.45 per dozen (.287 each).

* 3.85
Dozen (Minimum 4 Dz.)
glbumri
l: Flashing Bumpy Rings - .38
Squeeze the 1.5" rubber ring to trigger a multi-color light show.

* 5.75
Dozen
nv1635
Light Up Flashing Emoji Balls $6.40 (.533)
Every ball loaded with emotion. A sure way to bring a smile to everyone's face.

* 10.50
Dozen
luswasst-24
Light Up Sword Assortment
Assorted Light Up Swords. Get a variety of swords with minimal investment.

* 1.81
Each (Minimum 24 pieces)
nv1424
Splat Ball Assortment .467
Squeezable sticky balls splat and stick to a hard surface when thrown. Great stress ball also. Just squeeze and watch bubble form from center.

* 8.50
Dozen
nv1811p
Squeaking Squeeze Pigs $2.21
Squeaks. Very cute.

* 2.45
Ea. Min. 12 pieces
sunglassclearance
Sunglass Assortment Special $3.95
SAVE BIG TIME! Sunglass Clearance on assorted styles. Below cost...they gotta go!

* 12.00
Per Dozen ASSORTED Styles
freefreightspecial
z. FREE MERCHANDISE EQUAL To Your FREIGHT
Limited Time SPECIAL! FREE MERCHANDISE taken from inventory equal to the UPS freight charge on your order. ******See full description for details.

CALL
$600 Online 1st Pricd Items
This is a SECURE web site.
Orders processed within 24-48 business hours (Pay Pal orders may require an extra business day).
Warehouse Visits: 24 Hour "Advance Order" online or by telephone required (you may add to order upon arrival). Warehouse visits by appointment only.
We NO longer accept orders by e-mail from unestablished clients.
Like us on Facebook https://www.facebook.com/jaxfollies. Informational site: festival and special events, tips for your business, product info, pending legislation, SPECIAL DISCOUNTS for Jax Follies Friends and more.
Festival, Parades, Flea Market Info.: https://sites.google.com/site/jaxfolliesfriends