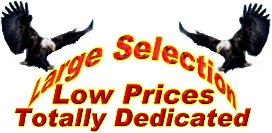 THE BARGAIN OUTLET WHOLESALE
Order Pick Up: 112 No. 7th St / Mail 608 S. 2nd
Marshall, Illinois 62441 United States
Phone: 217-826-6230, Fax: 217-826-6230
E-Mail: bargainoutlet@frontier.com

---
Minimum Order: $100.00
Large Selection @ Low Prices! Your Business Is The Most Important Thing To Our Business!
**Check out the MANY SPECIALS**(SAFE & SECURE), Fast Service,

REMINDER: Book Mark This Site For All the Newest Arrivals & SPECIALS! Site updated weekly.

(*) in price column means Quantity Discounts Available!
Click on item name to see full details and picture if available.

Item #
Description
Price
Unit
aprilspec
April Specials_FREE $50.00 Merchandise
Cake Tops, Knives, Plush, Giftware, Toys and more. See full description.

CALL
per $300 order
Y20264
Black Bear Shelf / Computer Sitter
Sits on the shelf or computer. 2 Assorted. 5.5" L

* 2.75
Each (Minimum 6)
espdj288
Black Bear With Cub
Momma and cub climbing tree.

* 9.25
Each Minimum 2 pieces
zy-prine
Candy Necklace - Nostalgia ***SPECIAL 0.157 Each
Candy Necklace. Fruit Flavored and Assorted Colors. GREAT STOCKING STUFFER!

* 2.10
Per Dozen (Minimum 4 dozen) * Free Freight Min 48
skf
g: Sweet Kitty Family
Country kitties in assorted vintage dress.

10.75
Dozen
Y13658
g: Lighthouse With Ocean Sound & Dolphin
7.75" H Resin.

12.50
Each
24-1653f
Inspirational Sayings Bracelets
Inspirational Sayings: Hope, Faith, Courage, Love, Courage, Dream.

2.87
Unit (2 Dz.)
jrmoobu.r
Metal Butterfly Mood Ring
Metal Butterfly Mood Ring. Adjustable bands..fits most.

* 9.60
Per Dozen (Minimum 2 Dz.)
memin
Musical Elephant Miniature Assortment
Each elephant is playing a different instrument.

* 10.75
Dozen
Y16431
Northwood Bear Bank With Duck
6.5" L. resin. Very distinctive features.

5.25
Each
catrump
Plastic Trumpet - 13" .55
Assorted colors. Great party favor or duck pond item!

* 8.50
Dozen (Minimum 2 Dz.)
3l361420
Silicone Walking With Jesus Bracelet
Assorted colors.

3.75
Dozen
r70107
Sleepy Native American Indian Doll Set -Warehouse SPECIAL $10.98
2 Porcelain Sleepy Native American Dolls On Rug With 2 Drums (Includes 2 Dolls, rug & 2 drums). Dolls are 7" H. (from sitting position - bottom to head..leg length not counted). Warehouse SPECIAL $10.98 per set...that's only $5.49 each doll. See Full Description.

* 21.35
Per Set (HUGE SAVINGS on 4 Sets!)
jk-snagu
Snap Gum (Human Mouse Trap) New Lower Minimum $3.60 Dozen
A snappy surprise for your gum mooching friends.

* 4.80
Per Dozen *FREE FREIGHT Minimum 40 Dz.
msbfa
Sweet Bunny Family Assortment
Approximate size 2" H. Assorted Resin.

* 10.35
Dozen
bg418
Two Sided Rotating Lamp With Dolphins & Lighthouse SPECIAL PRICE
Two Sided Rotating Motion Lamp.

14.55
Each
wabrgr
Wedding Arch With Bride & Groom
Wedding Arch With Bride & Groom. Very detailed.

4.99
Each (Minimum 2 Pieces)
WWJD
WWJD (What Would Jesus Do?) Pins
WWJD Pins (What Would Jesus Do?). Assorted. .28 Each.

3.40
Per Dozen
This is a SECURE web site.
Orders processed within 24-48 business hours (Pay Pal orders may require an extra business day).
Warehouse Visits: 24 Hour "Advance Order" online or by telephone required (you may add to order upon arrival).
Like us on Facebook https://www.facebook.com/jaxfollies. Informational site: festival and special events, tips for your business, product info, pending legislation, SPECIAL DISCOUNTS for Jax Follies Friends and more.
Festival, Parades, Flea Market Info.: https://sites.google.com/site/jaxfolliesfriends