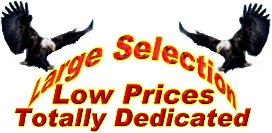 THE BARGAIN OUTLET WHOLESALE
Order Pick Up: 112 No. 7th St / Mail 608 S. 2nd
Marshall, Illinois 62441 United States
Phone: 217-826-6230, Fax: 217-826-6230
E-Mail: bargainoutlet@mediacombb.net

---
Minimum Order: $100.00
Large Selection @ Low Prices! Your Business Is The Most Important Thing To Our Business!
**Check out the MANY SPECIALS**(SAFE & SECURE), Fast Service,

REMINDER: Book Mark This Site For All the Newest Arrivals & SPECIALS! Site updated weekly.

(*) in price column means Quantity Discounts Available!
Click on item name to see full details and picture if available.

This is a SECURE web site. As an Additional security feature we do not ask for the "Verification Number (last 3 digits on the back of your credit card) online. Since this is required in order to process your credit card, some one from The Bargain Outlet Wholesale will telephone you for this required information. If you wish to expedite your order, you may telephone 217-826-6230 with the Verification Number (last 3 digits on the cask of your credit card) and the address where you receive your credit card billing statement. This is another security feature that helps to protect you.
Internet Orders processed within 24 - 48 business hours after receiving order (orders received after 9:30 A.M. CST will ship the following business day).
Web orders: $100.00
International Orders Payment: Credit card issued by a **USA based bank only** or Pay Pal (Verified account ONLY).
We are encouraging customers to utilize our website more and use the phone less .. this will enable our employees to better utilize their time giving your order the utmost service.
VISITING THE WAREHOUSE: PLEASE TELEPHONE 217-826-6230 PRIOR TO VISITING THE WAREHOUSE. We work between several warehouses, so we ask that you CALL FIRST. This will enable someone to be at the warehouse to give you the utmost service. Warehouse hours: 9 A.M. - 4 PM CST.
WAREHOUSE ADVANCE ORDER PLACEMENT (Warehouse order pick-up) : In a hurry? Need your order filled without waiting? SAVE TIME! PLACE ORDER ONLINE
1. Place your order online. 2. In the "Comments Section "mark it A. "Warehouse pick-Up" B. Date of pick-up and C. Time of pick-up.
**YOUR ORDER WILL BE WAITING WHEN YOU ARRIVE at the warehouse. ***48 BUSINESS HOURS ADVANCE NOTICE REQUIRED.***
***Credit card payment where the credit card is NOT ISSUED in the United States (this INCLUDES CANADA & the Bahamas) : We CAN ONLY ACCEPT PAY PAL AS PAYMENT...NO EXCEPTIONS.
USPS PARCEL POST SHIPPING: Fireworks, Round Caps, Bomb Bags, Fart Bomb Bags, Knives, Hair Color (or any aerosol cans) CAN NOT BE SHIPPED BY the USPS. These items WILL SHIP by UPS. All boxes shipped by Parcel Post can not weigh more than 20#; They can not measure more than 24" X 24" X 24". We RESERVE THE RIGHT TO DETERMINE THE BOXES SHIPPED SOLEY BY PARCEL POST. THERE WILL BE A $5 Handling Fee per box for Parcel Post Shipments.
All items shipped as packaged as per minimum on the item.
We reserve the right to correct any printing errors online, flyers, brochures, etc.
Returns, Damages & Shortages...See "Customer Information"
IL residents must provide a current Tax ID or pay the sales tax at time of order.
Our on going goal since 1983 is "LARGE SELECTION AT LOW PRICES!"
www.wholesalecentral.com/thebar0001
Festival, Parades, Flea Market Info.: https://sites.google.com/site/jaxfolliesfriends
https://www.facebook.com/jaxfollies