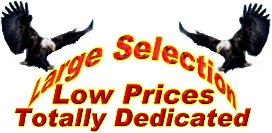 THE BARGAIN OUTLET WHOLESALE
Mail 608 S. 2nd Street
Marshall, Illinois 62441 United States
Phone: 217-826-6230, Fax: 217-826-6230
E-Mail: bargainoutlet@frontier.com

---
Minimum Order: $100.00
45 items found: Page [ 1 ] [2] [3] <Next Page>
(*) in price column means Quantity Discounts Available!
Click on item name to see full details and picture if available.

Item #
Description
Price
Unit
mpftnm
"Find The Series" FOIL Pencils
"Find The Series" Motivational Pencils. Find The more..see options.

* 1.86
Per Dz. (*12 Dz. LIMITED to assorted styles)
7990ac
* Solid Color Fidget Spinners $1.95
Spin'em, Twirl'em. Extremely HOT item!

* 2.52
Each (Minimum 12 Pcs.)
fsa
*** Fidget Spinner Deluxe Assortment $2.54
Assorted Styles Fidget Spinners....24 Pcs.(UFO, Ninja Glow-In-The-Dark, Patterned, Metallic, Glow In The Dark, & Standard Colors).

* 2.85
Each (Minimum 24 pcs.)
1591njgid/nv
******Fidget Spinners - Ninja Glow In The Dark $2.45 / $1.75
Assorted colors 2 Styles Ninja Glow-In-The-Dark Fidget Spinners. Help relieve anxiety, stress, boredom, nail biting, & more. Quality Spinners.

* 3.24
Ea. Min.12 Pcs.
buwhite.r
.6 Oz. White Bubbles
2 dozen per box. Accent with ribbbon for a Great party favor!

* 0.134
Each Piece (Minimum 24 pieces)
cafanrbr
10" Rainbow Folding Fans
Very colorful. Assorted color handles.

* 2.00
Dozen
826475aa
3 Piece Pull Back Aircraft
Carded.

* 1.20
Each (Minimum 12 pieces)
fe.12-1635
35MM Neon Confetti Hi-Bounce Balls
35MM Neon Confetti Hi-Bounce Balls. Bright colors.

2.40
Dozen
39-344f
7.25" Plastic Hand Clappers .215
Bright colors.

* 3.50
Dozen
24-2389f
Acrylic Ring Assortment
Assorted colors and patterns.

* 5.66
Unit (4 dozen per unit)
13605770f
Best Friends Glitter Jelly Bracelet
Assorted colors.

* 1.26
Dozen (minimum 3 dozen)
13658130
BFF Rubber Rings
"Best Friends Forever".

* 1.35
Unit (2 dozen) *Minimum 3 units
bombbagn
Bomb Bags .91
Exploding Bag. Great flea market or checkout impulse item!

* 1.25
Per Doz ( Min. 6 Dz) Sold in increments of 6 dz.
Christmas Eraser
Christmas Eraser Assortment
Assorted Christmas Erasers. 60 Pieces per tub.

* 4.30
per unit
3l241033fx
Diomaond Cut Rings
Assorted colors. .033 Each. Great perceived value!

1.55
Unit (4 Dozen)
45 items found: Page [ 1 ] [2] [3] <Next Page>
This is a SECURE web site.
Orders processed within 24-48 business hours (Pay Pal orders may require an extra business day).
Warehouse Visits: 24 Hour "Advance Order" online or by telephone required (you may add to order upon arrival). Warehouse visits by appointment only.
We NO longer accept orders by e-mail from unestablished clients.
Like us on Facebook https://www.facebook.com/jaxfollies. Informational site: festival and special events, tips for your business, product info, pending legislation, SPECIAL DISCOUNTS for Jax Follies Friends and more.
Festival, Parades, Flea Market Info.: https://sites.google.com/site/jaxfolliesfriends