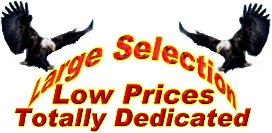 THE BARGAIN OUTLET WHOLESALE
Mail 608 S. 2nd Street
Marshall, Illinois 62441 United States
Phone: 217-826-6230, Fax: 217-826-6230
E-Mail: bargainoutlet@frontier.com

---
Minimum Order: $100.00
15 items found: Page [ 1 ]
(*) in price column means Quantity Discounts Available!
Click on item name to see full details and picture if available.

Item #
Description
Price
Unit
f.30105-1040
Acrylic Ice
Acrylic Ice. 3/8" - 1".

* 4.49
Ea Minimum 3 Bgs. 8 Bag price = ast colors only
cartpour
Carton Pourers
Carton Pourers. Never drip juice or milk again!

0.53
Each Card (Minimum 12 Cards)
Y27226 - Y27227
Country Bread Board Plaques *$4.12 *FREE Freight
Country Bread Board Plaques Assortment "Welcome" and "Faith Family, Friends". SPECIAL - SAVE 25% ...See full description for details.

* 5.50
Each (Min. 2 Pcs) $4.12 PRICE LIMITED to Assort. /
wgs.ch1369/12
Cute Double Piggy Cookie Jar $22.52
12.5"L X 9.3"H Cute Double Piggy Cookie Jar.

* 28.32
Each
knspfk
Knives, Spoons, Forks Assortment
Knives, Spoons, Forks Assortment. 3 Pieces per package. Assortment includes knives, spoons and forks.

0.71
Per Package (Minimum 6 Packages)
peghooks
Peg Hooks 6" - 10" As low as .14
Standard. Fits 1/8" & 1/4" pegboard.

0.21
Each (Minimum 12 Pieces)
plgalstri
Pillow: Galaxy Star Pillow $6.90
Multi-color galaxy prints.

* 9.00
Each
apprwolri
Pillow: Printed Wolf Pillow $5.75
13" Cute Pillow.

* 6.00
Each
103113123aa
Plastic 3 Piece Storage Containers With Snap On Lids
3 Size Storage Containers with 3 lids.

* 3.59
Set (Minimum 3 Sets)
fe.plstnd
Plate Stand
Small Plastic Plate Stand.

* 4.25
Per Dozen
om.10103
Preseasoned 10.5" Cast Iron Skillet
Preseasoned 10.5" Cast Iron Skillet with assist handle.

12.12
Each
freefreightspec200
z. FREE MERCHANDISE Equal to Your Freight
FREE MERCHANDISE taken from inventory equal to the UPS freight charge on your order. ******See full description for details.

CALL
$200 Online 1st Priced Items
orderinfo
z. ORDERING INFORMATION
How To Order, Processing, Payment, Shipping, Warehouse Information, and More.

CALL
Per Order
crcds
z. Payment
Visa, MasterCard, Discover Card, American Express and PayPal accepted.

CALL
Order
TAF=FREE merchandise
z. TELL-A-FRIEND - Earn $25, $50, $100
TELL-A-FRIEND about THE BARGAIN OUTLET WHOLESALE and receive $25 FREE merchandise. SEE Full Description for details.

CALL
Each
15 items found: Page [ 1 ]
This is a SECURE web site.
Orders processed within 24-48 business hours (Pay Pal orders may require an extra business day).
Warehouse Visits: 24 Hour "Advance Order" online or by telephone required (you may add to order upon arrival). Warehouse visits by appointment only.
We NO longer accept orders by e-mail from unestablished clients.
Like us on Facebook https://www.facebook.com/jaxfollies. Informational site: festival and special events, tips for your business, product info, pending legislation, SPECIAL DISCOUNTS for Jax Follies Friends and more.
Festival, Parades, Flea Market Info.: https://sites.google.com/site/jaxfolliesfriends