INDEPENDENT RETAILER magazine is now the official news outlet for Wholesale Central visitors. Each monthly issue is packed with new product ideas, supplier profiles, retailing news, and business strategies to help you succeed.

See new articles daily online at IndependentRetailer.com.
NATURAL PRODUCTS WORLDWIDE introduces a 3D Drawing Pad that turns drawings and written messages into three dimensional stereographic images, when viewed through the special 3D glasses that come with the pad.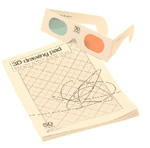 The pad contains 50 sheets that truly give notes and sketches a new dimension. When viewed through the glasses, they virtually appear to float above the page.
The units come 12 to a case, and the minimum order is $500. Cases are shipped free of charge from the United Kingdom. The wholesale price is $2.50 a unit, and the suggested retail price is $5.
This company also supplies a wide variety of novelty products for children and adults.
For more information, contact:
Natural Products Worldwide (NPW)
1205 Hilltop Parkway
Steamboat Springs, CO 80487
Toll free: 800-400-0692
Tel.: 970-879-5242
Fax: 970-879-5195
Website: www.npw-usa.com
Entire contents ©2022, Sumner Communications, Inc. (203) 748-2050. All rights reserved. No part of this service may be reproduced in any form without the express written permission of Sumner Communications, Inc. except that an individual may download and/or forward articles via e-mail to a reasonable number of recipients for personal, non-commercial purposes.