INDEPENDENT RETAILER magazine is now the official news outlet for Wholesale Central visitors. Each monthly issue is packed with new product ideas, supplier profiles, retailing news, and business strategies to help you succeed.

See new articles daily online at IndependentRetailer.com.
BIRDDOG DISTRIBUTING offers engine kits for motorizing regular bicycles. There are three different versions, and all come individually boxed and include full instructions for do it yourself installation.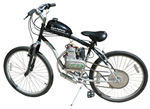 There are two 2 stroke engine kits, which means they operate on two movements of the piston. They run on a mixture of gas and oil, which is readily available at gas stations and hardware stores. Each has a one gallon tank and gets 150 miles to the gallon and operates at up to 35 miles per hour.
The less expensive model has 48 cubic centimeter capacity. It converts most any V frame bicycle into a scooter. It is legal in nearly all states, and in most cases, it can be operated legally without a license, registration or insurance. It has a suggested retail price of $199.99. It, like all three kits, is offered in a minimum order of five units. On a minimum order, this unit wholesales for $160. In all cases, the wholesale price declines on volume orders.
The Phantom Edition Deluxe 2 stroke engine kit has 50 cc capacity. It is an all chrome engine with a black powder coated cylinder. It has a push button clutch handle with brake lever and cable in addition to all of the components required to motorize a bicycle. Its suggested retail price is $249.99, and the wholesale cost on a minimum order is $225.
The 4 stroke 49 cc engine kit runs on gas. This kit contains everything needed to convert nearly any V frame bicycle into a gas powered scooter. This engine is especially recommended for steep hills and long rides. The suggested retail is $369.99 and on a minimum order wholesale cost is $325.
For more information, contact:
Birddog Distributing
1490 Harper Puckett Road
Bozeman, MT 59718
Toll Free: 800-514-8435
Tel.: 406-586-5970
Fax: 406-522-4178
Website: www.bicycle-engines.com
Entire contents ©2022, Sumner Communications, Inc. (203) 748-2050. All rights reserved. No part of this service may be reproduced in any form without the express written permission of Sumner Communications, Inc. except that an individual may download and/or forward articles via e-mail to a reasonable number of recipients for personal, non-commercial purposes.