INDEPENDENT RETAILER magazine is now the official news outlet for Wholesale Central visitors. Each monthly issue is packed with new product ideas, supplier profiles, retailing news, and business strategies to help you succeed.

See new articles daily online at IndependentRetailer.com.
DP & COMPANY carries a large and comprehensive selection of air soft guns. There are approximately 65 different designs, ranging from small, plastic hand guns that wholesale for as little as 75 cents a unit, to a specialty air gun that wholesales for $165.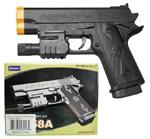 There are six different styles of the small spring powered units. They are replicas of real guns, about five inches long, and they shoot soft plastic BBs at a speed of approximately 180 feet per second. They wholesale for between 75 and 80 cents, and the suggested retail price is $2.99. Among the most popular spring powered models is G058A, which is six inches long and replicates the Dessert Eagle. It features a laser for aiming. The wholesale price is $1.35, and the suggested retail price is $4.99. DP & Company also carries numerous air soft guns in the mid price range, in both electric and spring powered versions. Electric powered rifles are among the most popular now. Wholesale pricing ranges from $12 to $25, depending on style. The suggested retail prices range from $23.99 to $89.99, providing retailers with a lot of room for profit. The company also supplies high profit units of BBs. One of the most popular is a 5,000 piece bottle that wholesales for $2.25 and has a suggested retail price of $8.99. The wholesale price for a case of 24 of these bottles is $1.90 a unit. DP & Company's minimum order is $50, and it can include an assortment of units, which allows a retailer to gain a selection of about 15 different guns in an initial order. For more information, contact:
DP & Company
7743 State Road 471
Bushnell, FL 33513
Toll Free: 800-421-9755
Tel.: 352-678-3661
Fax: 352-568-2232
Website:
www.dpcompany.com
Entire contents ©2022, Sumner Communications, Inc. (203) 748-2050. All rights reserved. No part of this service may be reproduced in any form without the express written permission of Sumner Communications, Inc. except that an individual may download and/or forward articles via e-mail to a reasonable number of recipients for personal, non-commercial purposes.