INDEPENDENT RETAILER magazine is now the official news outlet for Wholesale Central visitors. Each monthly issue is packed with new product ideas, supplier profiles, retailing news, and business strategies to help you succeed.

See new articles daily online at IndependentRetailer.com.
CONVICTED CLOTHING carries a variety of apparel with artwork created by prison inmates, while they were incarcerated. The art is screen printed and it includes the signature of the artist, the name of the institution in which the drawing was made and the Convicted Clothing distinctive logo.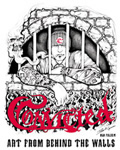 Among the available apparel pieces are long and short sleeved T-shirts, pullover and zip front hoodies, tank tops and work shirts. The company also sells Dickies work jackets, on which the Convicted Clothing logo is embroidered.
There are more than a dozen different works of art. The company, which was founded by the late, Adam Overstreet, and is now run by his wife, Mindy, has a future goal of funding a life training facility to help paroled people restart their lives in a productive way.
New designs are submitted regularly and are subjected to a 90 day review to determine its salability and appropriateness for the line. A short sleeve T-shirt, in sizes medium to XL, wholesales for $10, and in 2X and 3X for $11. The suggested retail price is $19.99 or more. Tank tops have the same pricing.
The work shirts are printed on the back, carry the embroidered logo, and on the tail, "art from behind the walls," is stitched in red. These wholesale for between $24 and $26. The embroidered logo on the Dickies brand work jackets has a very elaborate 67,000 stitch count, and appears on the front and back of the jacket. It wholesales for $62, and the suggested retail price is approximately $114.
For more information, contact:
Convicted Clothing
P.O. Box 2477
Newport Beach, CA 92659
Tel.: 949-335-5446
Fax: 949-335-5576
Website: www.convictedclothing.com
Entire contents ©2022, Sumner Communications, Inc. (203) 748-2050. All rights reserved. No part of this service may be reproduced in any form without the express written permission of Sumner Communications, Inc. except that an individual may download and/or forward articles via e-mail to a reasonable number of recipients for personal, non-commercial purposes.