INDEPENDENT RETAILER magazine is now the official news outlet for Wholesale Central visitors. Each monthly issue is packed with new product ideas, supplier profiles, retailing news, and business strategies to help you succeed.

See new articles daily online at IndependentRetailer.com.
ASTROJAX USA supplies an expanded line of the Astrojax three ball yo-yo-like toy that performs hundreds of tricks. The original version has been taken to the International Space Station, and new Astrojax tricks are regularly being shown on YouTube.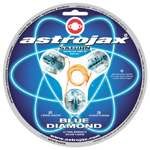 At its simplest, Astrojax consists of three balls on a string. The end balls are secure; the middle one floats, and, if one end ball is held and pulled gently, the other orbits the center ball. Astrojax is far from a fad. It's actually been around for about 15 years, and new line extensions ensure its continuing popularity.
The balls in the Plus version are made of a soft foam material. The V-Max version contains hard, polycarbonate balls, which move faster. The Saturn model contains LED lights, which will stay lighted or work on a high speed strobe. Blue Diamond contains all blue lights. And the newest, Aqua version, contains liquid filled balls that are bigger than others and have a smoother spin in orbit.
The minimum order on all but the Aqua version is 20 units of the same model. The minimum for Aqua is 12 units. Wholesale pricing varies somewhat, depending on the size of an order. The wholesale price for Plus is approximately $5.95, and suggested retail is $11.95. V-Max wholesales for about $4.45 and has a suggested MSRP price of $9.95. The Saturn wholesales for $7.95 and has a suggested retail of $14.95, while the Blue Diamond wholesales for $9.95 and has a suggested retail of $19.95.
Aqua is offered in a choice of three colors. The blue and shiva (hot pink) units wholesale for $8.95 and have a suggested retail of $19.95. The third Aqua model glows in the dark and wholesales for about $9.95. It has a suggested retail price of $22.95.
A point of sale DVD that shows all versions in action is offered free to retailers. Retailers also can purchase an LED screen for $150, which is preloaded with the video.
Astrojax USA will be exhibiting at the New York Toy Fair at the Javits Center, February 15th to 18th, Level 1, Booth 4881.
For more information, contact:
Astrojax USA
7999 Howell Court
Westerville, OH 43081
Tel.: 614-778-2785
Fax: 614-846-0803
Websites: www.astrojax.com and www.activepeople.com
Entire contents ©2022, Sumner Communications, Inc. (203) 748-2050. All rights reserved. No part of this service may be reproduced in any form without the express written permission of Sumner Communications, Inc. except that an individual may download and/or forward articles via e-mail to a reasonable number of recipients for personal, non-commercial purposes.