INDEPENDENT RETAILER magazine is now the official news outlet for Wholesale Central visitors. Each monthly issue is packed with new product ideas, supplier profiles, retailing news, and business strategies to help you succeed.

See new articles daily online at IndependentRetailer.com.
AURORAS.COM adds a black wrought iron fragrance diffuser to its extensive line of ash catchers, smoking bottles, incense, oils and related products. The new wrought iron diffuser is four inches high, circular in form and has a diameter of about four inches.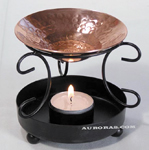 It comes with a copper colored bowl. A votive candle goes in the bottom of the wrought iron unit, and water with a few drops of fragrance oil go into the bowl. Light the candle and the aroma fills the room, with no burning. The diffuser is an alternative to incense. However, even when it is not in use, it is a decorative addition to any room.
Auroras.com, which has been in business for nearly 20 years, also carries more than 25 different scents of fragrance oil. It also has a broad selection of wood, brass, soapstone and other incense burners and diffusers.
The wrought iron diffuser has a wholesale cost of $5.95. The suggested retail price is between $12 and $20. The company requires a minimum order of $50, which can include a mix of any of its products.
For more information, contact:
Auroras.com
48514 North 31st Avenue
New River, AZ 85087
Tel.: 623-465-9566
Website: www.auroras.com
Entire contents ©2023, Sumner Communications, Inc. (203) 748-2050. All rights reserved. No part of this service may be reproduced in any form without the express written permission of Sumner Communications, Inc. except that an individual may download and/or forward articles via e-mail to a reasonable number of recipients for personal, non-commercial purposes.