INDEPENDENT RETAILER magazine is now the official news outlet for Wholesale Central visitors. Each monthly issue is packed with new product ideas, supplier profiles, retailing news, and business strategies to help you succeed.

See new articles daily online at IndependentRetailer.com.
HEAVENLY BODY PRODUCTS has a large and diverse inventory of Obama products, which include T-shirts, sweatshirts, caps, buttons, calendars, necklaces and watches, all carrying images and words related to the historic election that will result in the presidential inauguration of Barack Obama on January 20th, 2009.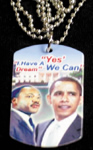 The minimum first time order is $200 and can include an assortment of products, as long as each fits within the minimum required in each product category. The reorder minimum is $100.
There are six different T-shirt designs, with a minimum of six of the same design. They are a presidential seal, a picture of the Obama family, a portrait of Obama smiling, "Yes, We Can," the 44th president of the United States, and Mission Accomplished, which shows the Michelle and Barack Obama fist bump. Most come only in black, in sizes small through 5X. The wholesale price for smaller sizes is $7, and in $1 increments, reaches to $10 for 5X. Discounts are offered on large orders. The suggested retail price is $15 to $20.
There are three sweatshirt designs: Yes, We Can; Obama smiling, and the family. The former comes in black; the others in a choice of black or brown. The wholesale price is $15 and $13 per dozen, depending on design. Retail ranges from $15 to $30.
There are three designs of baseball style caps, in a choice of black, red, pink and blue, while supplies last. The wholesale cost is $84 per dozen for units with a suggested retail of $15. Another design sells for $60 per dozen wholesale, with suggested retail of $10.
A knit cap in black wholesales for $48 a dozen and retails between $8 and $10. Watches wholesale for $12 each on an order of a half dozen. The suggested retail is $25 and up. Necklaces replicating a dog tag on a chain wholesale for $60 per dozen and have a retail price of $8 to $10.
A wide variety of buttons is available, and wholesale for $24 a dozen. On orders of two dozen or more, the wholesale is $18 a dozen, and on orders for 100 buttons, the wholesale price is $1. Suggested retail is $4, two for $7, or three for $10.
There are four different calendar designs, including one with a photo of the Obama family, a collage of Obama photos, and another of all the major figures in the presidential campaign. These are one piece calendars measuring 12 by 24 inches. At a minimum order, the wholesale cost is $24 a dozen. On orders of two-dozen or more, wholesale is $18 a dozen. Orders for 100 units wholesale at $1.25 each, and orders for 200 cost $1 each. Suggested retail is $5.
For more information, contact:
Heavenly Body Products
2571 Park Central Blvd.
Decatur, GA 30035
Tel.: 404-286-6700
Website: www.heavenlybodyproducts.com
Entire contents ©2023, Sumner Communications, Inc. (203) 748-2050. All rights reserved. No part of this service may be reproduced in any form without the express written permission of Sumner Communications, Inc. except that an individual may download and/or forward articles via e-mail to a reasonable number of recipients for personal, non-commercial purposes.