INDEPENDENT RETAILER magazine is now the official news outlet for Wholesale Central visitors. Each monthly issue is packed with new product ideas, supplier profiles, retailing news, and business strategies to help you succeed.

See new articles daily online at IndependentRetailer.com.
CKB PRODUCTS is introducing its own brand of exclusive and unique knives. Branded "Barton Blades," it is being launched now with 10 designs and will be developed to encompass 500 unique designs over the next three years. The first introductions include a hunting knife, folding liner lock units, lock back units and a survival unit that has a fixed blade and a screw top cap that opens to contain toothpicks, tweezers and other handy gadgets to aid in tough situations.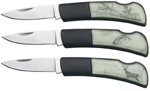 While there is no minimum order requirement, the wholesale price decreases with higher volume orders. Wholesale pricing in the Barton Blades collection begins as low as $1.60 a unit for knives that have a suggested retail price of between $14.95 and $16.95 a unit. On orders of 12 units or more of the same model, the wholesale price is $2 a unit.
On a low volume order, the survival knife wholesales for $6.25 a unit, and at $4.19 a unit on higher volume orders. It has a suggested retail price of $24.95.
In addition to the exclusive Barton Blades collection, CKB Products also supplies more than 1,000 different products, including giftware, cookware, kitchen utensils and other general merchandise categories.
For more information, contact:
CKB Products
8212 Chancellor Row
Dallas, TX 75247
Toll Free: 888-252-2897
Tel.: 214-951-0488
Fax: 817-887-1921
Website: www.ckbproducts.com
Entire contents ©2021, Sumner Communications, Inc. (203) 748-2050. All rights reserved. No part of this service may be reproduced in any form without the express written permission of Sumner Communications, Inc. except that an individual may download and/or forward articles via e-mail to a reasonable number of recipients for personal, non-commercial purposes.