INDEPENDENT RETAILER magazine is now the official news outlet for Wholesale Central visitors. Each monthly issue is packed with new product ideas, supplier profiles, retailing news, and business strategies to help you succeed.

See new articles daily online at IndependentRetailer.com.
ARAL PRODUCTIONS, d/ba BRA BARRETTE introduces Bra Barrette, a plastic bar with scrolls on either end. Initially designed to hold bra straps together in order to conceal them when wearing certain clothing styles, Bra Barrette measures 4 1/4" wide and 1 1/4" high, comes in a wide range of colors, and in decorative versions that add visible fashion to straps on spaghetti strap dresses and tops.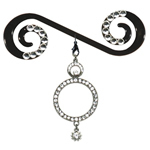 The non decorative versions are available in a choice of black, copper, silver, white, tan, red, pink and clear. A new Rainbow Pack of six units has been added, and contains one each in red, orange, yellow, green, blue and purple. Additional colors are always being added.
The Rainbow Pack wholesales for $6.50, with a suggested retail of $12.99. A Tri Pack containing three clear units wholesales for $4 and has a suggested retail of $7.99. A Bra Pack containing one each of white, black, nude and clear, wholesales for $5 and has a suggested retail price of $9.99. Single plain units wholesale for $2, and suggested retail is $3.99. Single metallic units wholesale for $3, with suggested retail of $5.99.
There are also units containing decorative charms or, "drops," and others containing crystals. There are a variety of charms, and retailers can ask for a package of best sellers or pick the ones they want. They are patterned after current design trends. Wholesale prices for the charmed singles vary by design, but range from $5 to $10, with suggested retail of $9.99 to $19.99.
There are two versions containing Swarovski crystals. One is, "Big Bling Fashionista," which has five crystals on each end and a crystal drop. The other is, "Completely Covered Crystal," and it has more than 65 hand placed crystals over the entire unit. The crystal versions wholesale for $18 to $20, and have a suggested retail of $34.99 to $39.99.
The minimum order is $100 and can contain a mix of units. The company offers a guarantee. If a unit doesn't sell, it will be replaced with another of the same price. A displayer comes free with certain volume orders.
For more information:
Aral Productions
D/ba Bra Barrette
P.O. Box 2324
Ferndale, WA 98248
Toll Free Tel./Fax: 866-447-3382
Website: www.brabarrette.com
Entire contents ©2022, Sumner Communications, Inc. (203) 748-2050. All rights reserved. No part of this service may be reproduced in any form without the express written permission of Sumner Communications, Inc. except that an individual may download and/or forward articles via e-mail to a reasonable number of recipients for personal, non-commercial purposes.