INDEPENDENT RETAILER magazine is now the official news outlet for Wholesale Central visitors. Each monthly issue is packed with new product ideas, supplier profiles, retailing news, and business strategies to help you succeed.

See new articles daily online at IndependentRetailer.com.
HEALING-SCENTS, a maker of all natural health and beauty aids, introduces Cold Sore Healer. It comes in a lip balm tube and is a beeswax blend of all natural ingredients. A primary ingredient is neemseed oil, which has been used in India for centuries. It is best known as an insect killer, because it seduces insects and makes them too lethargic to eat or reproduce.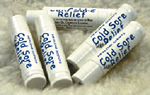 As a cold sore healer, it is anti viral, anti-fungal, and anti-bacterial, so its kills the virus that causes a cold sore outbreak. It is blended with other essential oils that are also anti-viral and anti-fungal. Cold Sore Healer wholesales for $4.75 a unit, and the suggested retail price is $9.95. Minimum order is $50, which can include an assortment of products.
Also new is an Outdoor Pack, which comes shrink wrapped in a lunch tray type holder, and contains four different products, geared to people who love the outdoors. The products are a two ounce unit of Skeeter Beater, a two ounce unit of Live Long sunscreen, a sample of anti-itch cream and a sample of the company's anti-itch stick. Outdoor Pack wholesales for $6.95 a unit, and suggested retail is $13.95.
For more information, contact:
Healing-Scents
1986 Will James Road
Rockford, IL 61109
Tel.: 815-874-0924
Website: www.healing-scents.com
Entire contents ©2022, Sumner Communications, Inc. (203) 748-2050. All rights reserved. No part of this service may be reproduced in any form without the express written permission of Sumner Communications, Inc. except that an individual may download and/or forward articles via e-mail to a reasonable number of recipients for personal, non-commercial purposes.