INDEPENDENT RETAILER magazine is now the official news outlet for Wholesale Central visitors. Each monthly issue is packed with new product ideas, supplier profiles, retailing news, and business strategies to help you succeed.

See new articles daily online at IndependentRetailer.com.
CONKLIN FASHIONS has acquired more than 1,000 styles of earrings. The company is offering them in quantities of 150 dozen, which amounts to 1,800 pairs, with a free displayer for a wholesale price of just 41 cents per pair.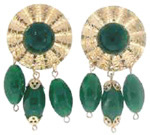 The earrings are assorted into three categories. One line features large gold and silver designs, described as an ethnic line. It consists of oversized hoops in flashy patterns and designs.The second group consists of large colored earrings, which include gold and silver color units with epoxy color coatings, acrylic and other coloring techniques. The third category is a dangle group, which are a little smaller and daintier than the others. This group includes designs with different types of finishes, such as burnish or copper, and the addition of rhinestones and crystal looks.The free floor display, which stands approximately five-and-a-half feet tall, can be fitted with 150 dozen pair in either of the three categories, or can be fitted with a mix containing units in two or three of the categories.The display, which has a wholesale cost of $750, also includes free shipping. The suggested retail price of the earrings ranges from $1 to $5 per pair, making them ideal for multiple sales and as gifts and holiday stocking-stuffers.For more information, contact:
Conklin Fashions
9-11 Johnson Street
Bainbridge, NY 13733
Toll Free: 888-563-4411
Tel.: 607-967-3021
Fax: 607-967-3027
Website:
www.wholesalejewelry.net
Entire contents ©2022, Sumner Communications, Inc. (203) 748-2050. All rights reserved. No part of this service may be reproduced in any form without the express written permission of Sumner Communications, Inc. except that an individual may download and/or forward articles via e-mail to a reasonable number of recipients for personal, non-commercial purposes.