INDEPENDENT RETAILER magazine is now the official news outlet for Wholesale Central visitors. Each monthly issue is packed with new product ideas, supplier profiles, retailing news, and business strategies to help you succeed.

See new articles daily online at IndependentRetailer.com.
SJT ENTERPRISES INC. offers wooden signs that spell out and depict individual dog breeds and sports teams. It has images of 91 different dog breeds, encompassing the common and obscure, and a few dozen sports teams in an inventory that is still growing. All of the signs are in full color on five by 10 inch wooden plaques. They are made at company headquarters in Ohio. There is a sign for each of the 91 breeds that reads, "Welcome." There are also signs that carry humorous messages, along with the dog images. Among them are, "Love is being owned by a (picture of dog breed)," and, "A spoiled rotten (breed name) lives here."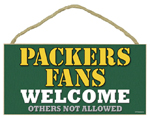 For the holidays, there are Happy Howladays plaques, with pictures of a dog wearing a Santa hat, and Meowy Christmas, ones with pictures of a cat wearing the hat. There are also nine horse plaques. The sports teams represented on plaques are not licensed, but of SJT's own design and painted in team colors. They include top professional teams, such as the Yankees, Steelers, Eagles, Lakers, and some college teams. A typical sports plaque says: "Eagles Fans Welcome, Others Not Allowed."
The minimum order is $100. The wholesale price is $2.79, suggested retail is $6.99, and some are being sold for as much as $12.99. A free, "Love & Laughter," floor display is offered with an order of four units each of 48 different breeds of the retailer's choice, which totals 192 units. The price is $535.68. Retailers who mention Cover magazine get free shipping.
For more information:
SJT Enterprises Inc.
28045 Ranney Parkway, Unit L
Westlake, OH 44145
Toll Free: 800-326-7419
Tel.: 440-617-1100
Fax: 440-617-0987
Website: www.greatstorestuff.com
Entire contents ©2019, Sumner Communications, Inc. (203) 748-2050. All rights reserved. No part of this service may be reproduced in any form without the express written permission of Sumner Communications, Inc. except that an individual may download and/or forward articles via e-mail to a reasonable number of recipients for personal, non-commercial purposes.