INDEPENDENT RETAILER magazine is now the official news outlet for Wholesale Central visitors. Each monthly issue is packed with new product ideas, supplier profiles, retailing news, and business strategies to help you succeed.

See new articles daily online at IndependentRetailer.com.
CREATIVE IDEA SHOP offers Popcorn Greetings. These are a selection of more than 180 different greeting cards that contain a 2.5 ounce bag of microwave popcorn. The full line is continually expanded.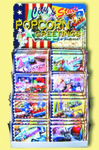 Popcorn Greetings is segmented into different themes. A generic line has designs and messages that encompass the major traditional greeting card themes, including birthday, congratulations, get well, and holidays. Another line, called city/state, features cards for each of the 50 states and a range of cards for popular U.S. destinations and cities. The card designs are reminiscent of postcards. "Naughty corn," features slightly erotic sayings on cards with a vintage look.
A line of gift card popcorn greetings is being added. These cards have, in addition to the microwave popcorn bag, a space for inserting a retail gift card. These also come in a range of themes. There are, coffee themed cards that complement a Starbucks or other coffee retailer's gift card. Another has a movie theme to complement a gift card from a DVD rental store. Another features a handy man, designed to carry a gift card from a home improvement retailer. The minimum order requirement is a case of Popcorn Greetings containing 24 units. It can be a mixed case of up to six units each of four different designs. On a minimum order, the wholesale price for the case is $50.16, or $2.09 a unit. The suggested retail price is $4.95 a unit.
The company offers a cardboard countertop displayer and a variety of other floor and countertop displayers. Creative Idea Shop also makes custom Popcorn Greetings. These make ideal promotional give aways, for retailers that want to thank preferred customers, or want to market custom Popcorn Greetings to local businesses and organizations.
For more information, contact:
Creative Idea Shop
28618 Vista Madera
Rancho Palos Verdes, CA 90275
Tel.: 310-897-3931
Fax: 310-831-1939
Website: www.popcorngreetings.com
Entire contents ©2021, Sumner Communications, Inc. (203) 748-2050. All rights reserved. No part of this service may be reproduced in any form without the express written permission of Sumner Communications, Inc. except that an individual may download and/or forward articles via e-mail to a reasonable number of recipients for personal, non-commercial purposes.