INDEPENDENT RETAILER magazine is now the official news outlet for Wholesale Central visitors. Each monthly issue is packed with new product ideas, supplier profiles, retailing news, and business strategies to help you succeed.

See new articles daily online at IndependentRetailer.com.
LIBERTY STIX introduces an electronic device by the same name that looks, tastes and feels like a cigarette, but does not emit smoke, toxins, tar, carbon monoxide, carcinogens, second or third hand smoke or odor. The cartridges, which are key to the use of the device, come with four levels of nicotine: high, medium, low and zero.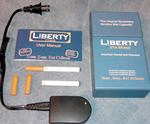 The unit consists of a rechargeable lithium battery and atomizer that creates vapor when the device is inhaled, and the replaceable cartridge. Liberty Stix cartridges are made in the U.S. The product's purposes include allowing users to circumvent clean indoor acts that prohibit smoking in restaurants, bars, sports venues and even airplanes. Liberty Stix are also designed to be used in conjunction with cigarette smoking, and helping people cut down on cigarettes. In addition, the company reports that 15 to 20 percent of users are able to quit using traditional cigarettes.
Liberty Stix replicates the look of a regular, 100, filter cigarette, and has an LED light on the end when it's being smoked, which not only indicates that it's in use, but also shows that the battery is working. The minimum order is $500 with shipping. It includes 12 starter kits and six cartons of 10 two packs of cartridges, and a point of sale displayer. The starter kit includes the Liberty Stix unit, a wall charger, an instruction manual and two cartridges. The cartridges are typically of medium strength nicotine, unless otherwise specified.
The starter kit wholesales for $25, and the suggested retail price is $35 to $45. A two pack of cartridges wholesales for $3, and suggested retail is $5 to $5.50. Each cartridge provides use equivalent to between three quarters of a pack to a full pack of cigarettes. The wholesale price for a carton of cartridges containing 10 two packs of cartridges is $30, and the suggested retail is $50.
For more information:
Liberty Stix
35160 Topps Industrial Parkway
Willoughby, OH 44094
Toll Free: 877-879-7848
Fax: 440-248-9111
Website: www.libertystix.com
Entire contents ©2022, Sumner Communications, Inc. (203) 748-2050. All rights reserved. No part of this service may be reproduced in any form without the express written permission of Sumner Communications, Inc. except that an individual may download and/or forward articles via e-mail to a reasonable number of recipients for personal, non-commercial purposes.