INDEPENDENT RETAILER magazine is now the official news outlet for Wholesale Central visitors. Each monthly issue is packed with new product ideas, supplier profiles, retailing news, and business strategies to help you succeed.

See new articles daily online at IndependentRetailer.com.
ENDANGERED SPECIES CHOCOLATE, the number one selling brand of chocolate in the natural category, is offering, "Halloween Treats." They are available in all natural milk and dark chocolate bite size squares.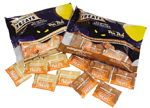 Halloween Treats are individually wrapped in festive orange and brown wrappers. A Halloween Treat Fun Pack includes 24 individually wrapped .35 ounce squares. The wholesale price is $4.92 per bag, and suggested retail is $6.72. They are offered in cases, or in any other quantity, or in a 48 count dump bin with a mixture of milk and dark chocolate units.
Like all of the company's chocolate, these are ethically traded, shade grown and certified kosher. All the beans are purchased from family owned properties in which the income benefits the local community. In addition, the company donates 10 percent of all its net profits to help support species, habitat and humanitarian causes.
For more information, contact:
Endangered Species Chocolate
5846 West 73rd Street
Indianapolis, IN 46278
Toll Free: 800-293-0160
Tel.: 317-844-2886
Fax: 317-844-4951
Website: www.chocolatebar.com
Entire contents ©2023, Sumner Communications, Inc. (203) 748-2050. All rights reserved. No part of this service may be reproduced in any form without the express written permission of Sumner Communications, Inc. except that an individual may download and/or forward articles via e-mail to a reasonable number of recipients for personal, non-commercial purposes.