INDEPENDENT RETAILER magazine is now the official news outlet for Wholesale Central visitors. Each monthly issue is packed with new product ideas, supplier profiles, retailing news, and business strategies to help you succeed.

See new articles daily online at IndependentRetailer.com.
EZ TOWEL INC. has introduced a product by the same name. EZ Towel is compressed into a tablet shape the size of a stack of five nickels. Adding water when placed in the palm of your hand the tablet will expand. It can then unroll and unfold to become an 8.5 by 9.5 inch towel.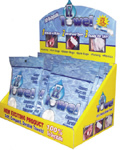 The towel is of biodegradable rayon, and, unlike paper towels, it is durable, soft and absorbent. It contains no chemicals or other ingredients. The form makes it ideal for travel, carrying in a purse, pocket, car, backpack, picnic basket or anywhere children and adults go. It comes in a plastic bag that contains 50 compact EZ towels. Each bag also includes a tube to conveniently carry in a purse, pocket, tackle box, etc. The minimum order is 30 bags. A free countertop display unit is offered with an order of 30 bags, as well as a clip strip. Both hold up to a dozen bags. The wholesale price on an order of this size is $3.33 per bag. The suggested retail price is $7.99 per bag. The company also offers EZ Towel customized promotional tubes. The minimum order of a customized tube imprinted with a logo or name is 100 tubes, and wholesales for $200. Each tube contains between nine and 10 EZ towels. Used as a promotional item, the tubes prompt repeat business to replenish the tubes. For more information, contact:
EZ Towel Inc.
940 East Washington Street
Winchester, IN 47394
Toll Free: 800-714-7918
Tel.: 765-584-3370
Fax: 765-584-3991
Website:
www.eztowel.com
Entire contents ©2023, Sumner Communications, Inc. (203) 748-2050. All rights reserved. No part of this service may be reproduced in any form without the express written permission of Sumner Communications, Inc. except that an individual may download and/or forward articles via e-mail to a reasonable number of recipients for personal, non-commercial purposes.