INDEPENDENT RETAILER magazine is now the official news outlet for Wholesale Central visitors. Each monthly issue is packed with new product ideas, supplier profiles, retailing news, and business strategies to help you succeed.

See new articles daily online at IndependentRetailer.com.
Pay-per-click (PPC) advertising, using text ads and banners to engage social media fans on Facebook, has been losing its luster in recent years. Advertising to these fans may be great for building brand awareness, but it is not doing much for the immediate bottom line. The low returns businesses see from PPC methods may be because people that typically use social media sites, like Facebook, do not necessarily want to be sold to directly. They want uninterrupted interaction with topics that interest them, friends, family and the like. Selling to them directly can be seen as an intrusion that gets in the way of their "leisure time." Although traditional PPC advertising is still an option, a new type of paid advertising is available on Facebook, and it looks very promising.
The Facebook Offers program typically involves some type of discount or promotion run by a store. When a store that participates in this program posts an offer to its fan Page, that offer appears directly in the news feeds of all fans that have liked the Page. When a user accepts an offer and it posts to his or her wall, some sort of text as such "Jane Doe just took advantage of offer X" accompanies it. It also details the offer and oftentimes shares an image as well.
Offers is a genuinely social product, with redemptions driven by sharing. In fact, among the 100 most popular Offers on Facebook, seventy-five percent of the claims came not from people who had been targeted by an Offer, but from someone with whom they had shared it, according to David Fischer, Facebook's VP of Marketing and Business Partnerships. One reason Offers go over well with Facebook users is that they directly and immediately benefit the user who claims them, without using traditional "in your face" methods. Perhaps another reason this method of advertising works is that it is driven by a kind of peer review or peer acceptance. Offers carry more weight and tend to convert better when recommended or accepted by a friend.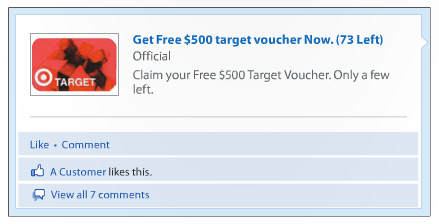 Figure: An example of a Facebook Offer in a feed.
In order to participate in the Facebook Offers program, a store must have a minimum of 400 likes on its Facebook Page. Once qualified, stores set a pre-determined budget based on desired effective reach. This is more along the lines of cost-per-mille (CPM) advertising, where advertisers pay per thousand views, rather than PPC. The difference is that when fans claim offers, the offers are posted to their walls and then subsequently shown in the feeds of all their friends' walls as well, so offers can get a lot of attention, fast. Three types of Offers are available on Facebook. The first is "In Store Only," whereby users redeem offers in-store with a printed coupon, email or by showing it on their smartphones. The second type is "In Store & Online," whereby people can redeem an offer at either a store's physical location or from its website. The "Online Only" Offer must be redeemed by visiting the advertiser's website. All options offer extensive targeting methods based on profile data entered by Facebook users when they created or updated their accounts.
To create an Offer for your Facebook Page, follow these steps:
Go to your Facebook Page.
From the sharing tool at the top of your Page's timeline, click Offer, Event + and then click Offer.
Click the kind of offer you want to make: In Store Only, In Store & Online or Online Only.
If your offer can be redeemed online, type the complete web address where people can redeem it, and add an optional redemption code for people to enter. Then click Next.
Type a strong headline for your offer. For example, "Buy one pair of socks, get another pair free."
Upload a photo for your offer that will stand out in thumbnail size.
You can choose to limit the number of claims by clicking Unlimited and selecting a number from the dropdown.
Set an expiration date by clicking today's date and clicking a different day in the future.
Add terms and conditions of your offer by clicking Terms.
For in-store offers, add an optional barcode to scan at your business.
Click Preview to review what your offer will look like. Facebook will also send you an email with a preview of what the offer email will look like when people claim it.
Click Back to make any changes.
When you are happy with the preview, click Set Budget.
Choose the amount you want to spend to promote your offer. Notice that the estimated reach increases with bigger budgets.
Click Share.
Any store looking to extend its reach using social media should absolutely consider Facebook Offers as an additional form of advertising. Of course, the first step is to create a fan page and get at least 400 likes, a target that is very reachable and should not take any store much time to achieve. Facebook has developed a unique and ingenious method of combining peer-to-peer influence with online marketing. The result is a win for storeowners and consumers alike, and one that should set the stage for future social media networks to follow. The sheer power of this form of advertising should quickly be evident.
Eric Leuenberger is an ecommerce expert, founder of eCommerce Amplifier, and owner of Voom Ventures, LLC whose products and services help storeowners and operators increase traffic, maximize ROI, decrease expenses and increase revenue. He can be contacted online at www.voomventures.com or by phone at 1-866-602-2673.
Source: Facebook help section: https://www.facebook.com/help/102534329872055/
Entire contents ©2023, Sumner Communications, Inc. (203) 748-2050. All rights reserved. No part of this service may be reproduced in any form without the express written permission of Sumner Communications, Inc. except that an individual may download and/or forward articles via e-mail to a reasonable number of recipients for personal, non-commercial purposes.