INDEPENDENT RETAILER magazine is now the official news outlet for Wholesale Central visitors. Each monthly issue is packed with new product ideas, supplier profiles, retailing news, and business strategies to help you succeed.

See new articles daily online at IndependentRetailer.com.
SCENTNOVA introduces the Air Freshener Picture Frame, which combines a photo with a removable, replaceable air freshener that slips into a slot behind the frame. The frame is of metal and measures nearly three inches high, about 1.5 inches wide and less than one inch thick.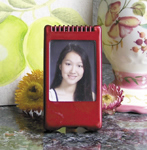 Four different fragrances of air fresheners are available: vanilla, cinnamon, orange and magnolia. The frame comes with a single air freshener. It can be clipped onto the air vent of a car or set on any surface in home, office or workplace. The photo can be changed as desired. Air Freshener Picture Frame is currently available in black or red. Additional colors are being added. Scentnova calls for a minimum order of 24 units. The wholesale price is $2.30. The suggested retail price is $4.99 or more, depending on the store and market. Refill air fresheners are available in packs of three, all of the same fragrance. They wholesale for $1.80 per three pack. The suggested retail is $3.99. For more information, contact:
Scentnova
47 Brighton Avenue
San Francisco, CA 94112
Tel.: 415-584-8628
Fax: 415-584-5108
Website:
www.scentnova.com
Entire contents ©2023, Sumner Communications, Inc. (203) 748-2050. All rights reserved. No part of this service may be reproduced in any form without the express written permission of Sumner Communications, Inc. except that an individual may download and/or forward articles via e-mail to a reasonable number of recipients for personal, non-commercial purposes.