INDEPENDENT RETAILER magazine is now the official news outlet for Wholesale Central visitors. Each monthly issue is packed with new product ideas, supplier profiles, retailing news, and business strategies to help you succeed.

See new articles daily online at IndependentRetailer.com.
NOVELTY POSTER COMPANY introduces several games based on popular TV shows and other tested titles. Chief among them is the, "Are You Smarter Than a 5th Grader?" card game, based on the hit TV show.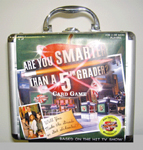 The game comes packaged in a briefcase and includes 500 grade school questions on cards, along with a CD that allows players to play the game on their CD or an MP3, which means it can be played at home or in a car. Just like the TV program, this game takes questions from grade school textbooks and includes ways to peek, cheat and copy in efforts to appear smarter than a 5th grader. The minimum order quantity is 24 units. The wholesale cost is $7.50 a unit, and suggested retail is $14.99.
The company also offers a Deal or No Deal electronic handheld game. It is offered for a minimum of 36 units, at a wholesale cost of $11 per unit, designed to retail for about double wholesale.
The High School Musical game, based on the original Disney movie, includes a music CD, game board, moving pieces and cards. Designed as a cross between Name that Tune, Dance Revolution and Karoake, it can be played with or without the CD. The minimum order is 24 units at a wholesale price of $8.50 a unit.
Rubik's Revolution takes the famous cube game electronic. It contains multiple games that feature lights, sound, and voice effects. There are six different ways to play, each with multiple levels that challenge the mind and the players' physical dexterity. It can be played alone or with others. It comes in a case of 24 units at a wholesale price of $12.50 a unit.
For more information, contact:
Novelty Poster Company Inc.
81 North Forest Avenue
Rockville Center, NY 11572
Toll Free: 800-648-4818
Tel.: 516-561-1378
Fax: 516-561-3605
Website: www.noveltyposter.com
Entire contents ©2022, Sumner Communications, Inc. (203) 748-2050. All rights reserved. No part of this service may be reproduced in any form without the express written permission of Sumner Communications, Inc. except that an individual may download and/or forward articles via e-mail to a reasonable number of recipients for personal, non-commercial purposes.