INDEPENDENT RETAILER magazine is now the official news outlet for Wholesale Central visitors. Each monthly issue is packed with new product ideas, supplier profiles, retailing news, and business strategies to help you succeed.

See new articles daily online at IndependentRetailer.com.
T.C. & B. CORPORATION, a cap manufacturer, has obtained the exclusive license to make hats utilizing a technology to create fabric that changes color in sunlight. The company can offer hats in any style and provides several lines of stock and custom units.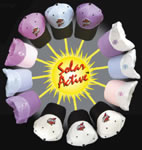 The process begins with a UV activated dye that is impregnated into poly/nylon threads for the hat fabric. It's a permanent process that will last as long as the hat, and the fabric is machine washable. The hats are white indoors and change to a color in sunlight.
The hats come in a choice of four light changing colors: purple, magenta, blue and green. Yellow, orange and red are being added. A different color fabric is used on the visor of baseball caps, which does not change in the sunlight, and complements the color when it changes. The company also offers hats in a pinwheel effect, with alternating panels of regular and light changing fabric. Stock baseball caps are offered in a minimum of two dozen units for a wholesale cost of $6.95 a unit. As a blank unit, suggested retail is about $15 per hat. Many retailers add imprints or embroidery, and that raises the typical retail price to $22.95 a unit or more.
All units are packaged for pegboard display and have art that shows how they work indoors and out. A point of sale poster is also available. The minimum order for custom styles is 144 units, and virtually all hat styles are available.
For more information, contact:
T.C. & B. Corporation
416 12th Street
Perry, IA 50220
Toll Free: 888-326-6779
Tel.: 515-465-4693
Fax: 515-465-4695
Website: www.tcbcorp.com
Entire contents ©2021, Sumner Communications, Inc. (203) 748-2050. All rights reserved. No part of this service may be reproduced in any form without the express written permission of Sumner Communications, Inc. except that an individual may download and/or forward articles via e-mail to a reasonable number of recipients for personal, non-commercial purposes.