INDEPENDENT RETAILER magazine is now the official news outlet for Wholesale Central visitors. Each monthly issue is packed with new product ideas, supplier profiles, retailing news, and business strategies to help you succeed.

See new articles daily online at IndependentRetailer.com.
SPORTS JACK LLC invented, patented and offers exclusively SportsJack, a portable seat that is lightweight, easy to carry and easy to use on any terrain. It is a monopod consisting of seamless aluminum tubing topped with a comfortable, imitation leather bicycle type seat.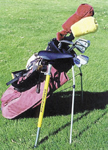 It has a non slip rubber tip that is safe for any surface, and it is spring loaded to keep the ground in contact for stability. SportsJack weighs just 2.5 lbs., and it has an adjustable shoulder strap for easy carrying. In addition, the seat allows for 360 degree mobility, which allows the user to get a full view without ever getting up. It is ideal for watching sports, golfing, picnicking, bird watching and sitting at hundreds of places where regular seating is scarce or non existent. The minimum order is two boxes of 12 units each, plus shipping. The wholesale price is $10, and suggested retail is between $24 and $39. Flyers and a DVD showing its many uses are offered free with opening orders. For more information, contact:
Sports Jack LLC
P.O. Box 524
Eloy, AZ 85231
Tel./Fax: 520-466-0490
Cell: 520-840-1961
Website:
www.sportsjack.com
Entire contents ©2022, Sumner Communications, Inc. (203) 748-2050. All rights reserved. No part of this service may be reproduced in any form without the express written permission of Sumner Communications, Inc. except that an individual may download and/or forward articles via e-mail to a reasonable number of recipients for personal, non-commercial purposes.