INDEPENDENT RETAILER magazine is now the official news outlet for Wholesale Central visitors. Each monthly issue is packed with new product ideas, supplier profiles, retailing news, and business strategies to help you succeed.

See new articles daily online at IndependentRetailer.com.
EARTH SOLUTIONS introduces Aromatherapy Scent Inhalers, a series of inhalers that contain blends of essential oils that are designed to produce a variety of physical and emotional benefits. They are offered in a choice of 21 scents.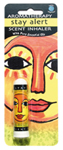 Each is packaged in a folk art design and includes a printed affirmation that is created to bring the intended result, such as stimulation or relaxation. The inhalers are a part of the company's holistic approach to health and well being.
The user utilizes the affirmation to access the power of positive thinking, while the inhaler's scent unlocks memory. It induces an aroma that signals the brain to create a physical and emotional reaction.
Different versions of the inhalers are designed to lower stress, lighten the effects of menopause, attract romance, quell insomnia, control appetite or smoking, aid fertility and provide feelings of gratitude and abundance. The units are plastic containers that resemble other inhalers and measure about two inches, so they can easily fit in a pocket or purse.
The company requires a minimum order of $100, and it can include any assortment of Earth Solutions' many holistic products, including Aromatherapy Scent Inhalers. The inhalers have a wholesale price of $2.50, and the suggested retail price is $4.99.
Several display units are available. One is about 12 inches high and holds a total of 36 units, six each of six different aromas. Another is a displayer that holds 12 units each of 18 different versions. The displayers are free with orders and come stocked and ready for use.
For more information, contact:
Earth Solutions
1123 Zonolite Road
Atlanta, GA 30306
Toll free: 800-883-3376
Tel.: 404-347-9900
Fax: 404-347-9799
Website: www.earthsolutions.com
Entire contents ©2022, Sumner Communications, Inc. (203) 748-2050. All rights reserved. No part of this service may be reproduced in any form without the express written permission of Sumner Communications, Inc. except that an individual may download and/or forward articles via e-mail to a reasonable number of recipients for personal, non-commercial purposes.