INDEPENDENT RETAILER magazine is now the official news outlet for Wholesale Central visitors. Each monthly issue is packed with new product ideas, supplier profiles, retailing news, and business strategies to help you succeed.

See new articles daily online at IndependentRetailer.com.
GEOSPACE INTERNATIONAL offers Easy-Hatch, a home aquarium that accommodates fish embryos that hatch live Killifish and help them grow into two inch colorful tropical fish, in lively colors and shapes. The plastic aquarium is eight by 7.5 by 5.5 inches. The aquarium contains a certificate that has a special number code. Consumers who buy the aquarium go to the Geospace website and enter the code, which enables them to order the dormant eggs for only the shipping cost.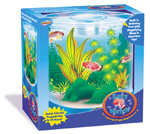 The Easy-hatch soil contains dormant Killifish eggs. They are placed in the hatching compartment with bottled water at 75 degrees. Sea salt and a pinch of dried brine shrimp eggs are placed in a separate dish with bottled or filtered water. Within three days, the brine shrimp hatch, to be used as feed for the Killifish eggs. Four or more of the eggs then rehydrate and hatch.
At first they are tiny, but within two to three months, they are fully grown to about two inches. The secret to this rehydration is the fact that, in nature, Killifish survive in seasonal ponds that dry out. When the ponds dry, the eggs go dormant and hatch when seasonal rains return.
Easy-Hatch is designed for ages six and up. The minimum order is at least six units of this product, and the company requires a typical minimum of $200, which can include any of the Geospace products. The wholesale cost of Easy-Hatch is $10. The suggested retail price is $19.99.
For more information:
Geospace International
3931 Leary Way NW
Seattle, WA 98107
Toll Free: 800-800-5090
Tel.: 206-547-2556
Fax: 206-547-1671
Website: www.geospaceplay.com
Entire contents ©2022, Sumner Communications, Inc. (203) 748-2050. All rights reserved. No part of this service may be reproduced in any form without the express written permission of Sumner Communications, Inc. except that an individual may download and/or forward articles via e-mail to a reasonable number of recipients for personal, non-commercial purposes.