INDEPENDENT RETAILER magazine is now the official news outlet for Wholesale Central visitors. Each monthly issue is packed with new product ideas, supplier profiles, retailing news, and business strategies to help you succeed.

See new articles daily online at IndependentRetailer.com.
Leading handbags designer and importer, Aliz International, Inc, is celebrating its 19th anniversary with their expanded Los Angeles location, Aliz California. Despite the present economic situation, Aliz still keeps growing and expanding. "We survive the current economy through years of experience and a wide range of products," declared Rosanna Tran, vice president of Aliz International. "We are committed to provide the best products with the best prices to our customers, so they can survive in this tough economy."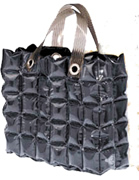 Aliz's products range from classic genuine leather bags, trendy look of the moment fashion bags, and funky licensed celebrity bags. Wholesale prices range from $5 to $22, and almost everything is available for immediate delivery. There are also concerns from many small retailers about ordering directly from importers. Many importers require customers to order everything by the case, and smaller retailers will be stocked with one bag, in one color with 24 pieces, instead of having a variety of styles, which they could test and then reorder. This quantity buying problem is easily solved at Aliz International. Customers can choose to buy one piece of each style in each color, as long as they add up to a combined order of $200. Aliz also accepts credit cards for flexible payment.
Aliz International is also capable of handling large quantity orders, and has been manufacturing for many private labels and catalogue companies for special orders, ranging from 120 pieces per style to 100,000 pieces, FOB China. Moving forward for Fall 2009, Aliz has designed a new line of "It" bags, without the "It" price. The collections are available in August, and will first be released at the ASD/AMD Trade Show in Las Vegas. In addition, Aliz International, Inc. has continued new releases on licensed celebrity bags, including Lucille Ball, Elvis Presley, Marilyn Monroe, I love Lucy and Betty Boop. For the novelty bags buyer, please check out Aliz's new bubble bags that are expanded by blowing air in the bubbles. For more information on Aliz International, Inc., please visit their website: www.alizbags.com.
For more information:
Aliz International, Inc.
11136 Satellite Blvd.,
Orlando, FL 32837
Tel: 407-438-8816
Fax: 407-438-0122
Website: www.alizbags.com
Entire contents ©2023, Sumner Communications, Inc. (203) 748-2050. All rights reserved. No part of this service may be reproduced in any form without the express written permission of Sumner Communications, Inc. except that an individual may download and/or forward articles via e-mail to a reasonable number of recipients for personal, non-commercial purposes.