INDEPENDENT RETAILER magazine is now the official news outlet for Wholesale Central visitors. Each monthly issue is packed with new product ideas, supplier profiles, retailing news, and business strategies to help you succeed.

See new articles daily online at IndependentRetailer.com.
TDMC offers The Harvest, an inspirational and decorative plaque, displaying text written by David Merkling, the company's owner. It is the third such plaque written and designed by Merkling, all of which tell stories of life, which he says are inspired by God.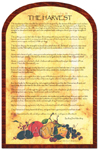 The Harvest is a scroll like design of wood composite that measures 12 by 18 inches and is approximately a half inch thick. It can be hung on the wall or set on a stand.
It tells of life's choices and reads, in part, "My hands are empty; my heart is full of love, and what I have left will be the harvest from above." The unit is decorated with a fruit motif along the bottom.
The wholesale price for a regular version of The Harvest is $24.15, and suggested retail price is $38.95. Another version is recessed in a frame, and its wholesale price is $27.15, and carries a suggested retail price of $49.95. A portion of profits is donated to Young Men's Educational Foundation. The minimum order is 144 units.
For more information, contact:
TDMC
910 South Sheridan, Unit A
Corona, CA 92882
Tel.: 951-454-0324
Fax: 951-734-7495
Entire contents ©2023, Sumner Communications, Inc. (203) 748-2050. All rights reserved. No part of this service may be reproduced in any form without the express written permission of Sumner Communications, Inc. except that an individual may download and/or forward articles via e-mail to a reasonable number of recipients for personal, non-commercial purposes.