INDEPENDENT RETAILER magazine is now the official news outlet for Wholesale Central visitors. Each monthly issue is packed with new product ideas, supplier profiles, retailing news, and business strategies to help you succeed.

See new articles daily online at IndependentRetailer.com.
GOT ALL YOUR MARBLES introduces its line of interchangeable jewelry that combines its patented tension mechanism with multiple marbles, to allow consumers to change colors easily. The jewelry is handmade of stainless steel, or stainless steel and bronze. The line includes five styles of pendants, three earring designs, two ring styles and a keychain. All but the latter come gift boxed in a package that also includes a polishing cloth, a bag of marbles appropriate for the jewelry piece, and instructions for changing the marbles.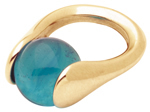 In all, there are five sizes of marbles. The top selling, "itty bitty orb earrings with a French hook," for example, comes with eight pairs of marbles in different colors. Units in the "fancy" series utilize marbles in the size used by florists, and come with 30 different color marbles. The largest size jewelry utilizes a one inch marble, known as the "shooter" size.
While most of the jewelry is designed for women, the "player" pendant is also worn by men as is one of the ring styles. The minimum order is $300, and can contain an assortment of jewelry designs. The company will guide retailers to best sellers. A display of marbles in the sizes the retailer orders is offered for free with an initial order. The company also provides point of sale postcards that show how the jewelry works.
Pendants are typically offered with a leather cord, a silver chain, or by themselves, so the retailer can combine them with something else that the store carries. As an example of pricing, the itty bitty simple pendant on a leather cord comes with eight marbles and wholesales for $19.50. The suggested retail price is $39. Another pendant, the fancy simple pendant, is two sizes larger than the itty bitty. It comes with 30 different color marbles. On a leather cord, it wholesales for $29.50 and the suggested retail is $59.
For more information:
Got All Your Marbles
3601 East 44th Street, Ste. 105
Tucson, AZ 85713
Toll Free: 866-628-1433
Tel.: 520-628-1433
Fax: 520-622-5565
Website: www.gotallyourmarbles.com
Entire contents ©2022, Sumner Communications, Inc. (203) 748-2050. All rights reserved. No part of this service may be reproduced in any form without the express written permission of Sumner Communications, Inc. except that an individual may download and/or forward articles via e-mail to a reasonable number of recipients for personal, non-commercial purposes.