INDEPENDENT RETAILER magazine is now the official news outlet for Wholesale Central visitors. Each monthly issue is packed with new product ideas, supplier profiles, retailing news, and business strategies to help you succeed.

See new articles daily online at IndependentRetailer.com.
AMERICAN EASTERN TRADERS has created Kruzer Kaddy, a handlebar cup holder for use on motorcycles. This is a handlebar caddy that fits onto a 7/8, one, or one and a half inch handlebar, in order to work on all types of motorcycles.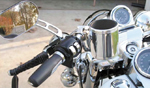 It is made of rugged, industrial stainless steel and is offered in a choice of five finishes: chrome plated, satin, leather wrapped, black coated and mossy oak. The bracket fits onto the handlebar and has two foam liners so that it can accommodate 12, 16 or 20 ounce beverage containers.
There is no minimum order, but a free display is offered with an order of three pieces. The displayer is L shaped and chrome plated and has a four inch bar onto which the Kruzer Kaddies can be mounted.
The wholesale price is between $22 and $28, depending on the finish. The suggested retail price ranges from $45 to $54.
For more information, contact:
American Eastern Traders
140 Ethel Road West # H
Piscataway, NJ 08854
Toll Free: 888-722-4537
Tel.: 732-248-5400
Fax: 732-248-9600
Website: www.aetraders.com
Entire contents ©2020, Sumner Communications, Inc. (203) 748-2050. All rights reserved. No part of this service may be reproduced in any form without the express written permission of Sumner Communications, Inc. except that an individual may download and/or forward articles via e-mail to a reasonable number of recipients for personal, non-commercial purposes.