INDEPENDENT RETAILER magazine is now the official news outlet for Wholesale Central visitors. Each monthly issue is packed with new product ideas, supplier profiles, retailing news, and business strategies to help you succeed.

See new articles daily online at IndependentRetailer.com.
When John McCall discovered his wife was expecting their second child, he was a pick and pack fulfillment worker for Barproducts.com. His efforts with the company were valued, but he certainly was not the highest guy on the totem pole when it came to pay. John read in the papers that raising a child, on average, costs more than $130,000. The 22 year old knew that it was time to make some kind of a career move.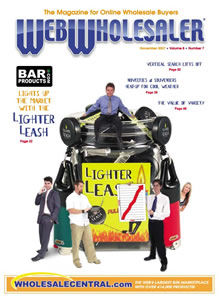 The next thing John did was approach his boss, Mark Hastings, President, of Barproducts and inform him of his ensuing financial predicament. Hastings had not always been a self made man himself, so McCall's situation caught an empathetic ear.
"I did some brainstorming," Hastings explained. "After thinking about it for awhile, I took John back to a pair of dusty pallets in the rear of the warehouse that had not been touched for some time. I knew the product was good, but we just did not have anyone committed to selling it. So, I asked him if he would give the Lighter Leash a shot."
McCall did not hesitate at the chance to become a salesman. Hastings broke him in gradually, having the young man work mornings in the warehouse and in the sales office after lunch. Before they knew it, McCall was quite adept at utilizing the Lighter Leash marketing literature, the convenience store directory and his brand new business cards while drumming up online sales.
Luckily, the URL, www.lighterleash.com, had been secured by the forward thinking boss. It did not take long before the site's ecommerce system began lighting up like a pinball machine.
Turning Countertops into $$$$
Truth be told, Hastings has always had a keen eye for smart business, developing and patenting dozens of decidedly functional and stylish products. In the case of the Lighter Leash, the product holds a standard size lighter, such as a Bic, Clipper or Winlite, and comes in a variety of colors. It can be snuggly clipped onto a belt, pocket, skirt or purse and gives the user quick access to a light. While starting out at $1.99 per wholesale unit, it is also available for $10.74 per six leashes and $19.08 for 12. Another great thing about the Lighter Leash is that they do not take up much countertop or shelf space. Hastings and McCall provide display options to go with the product.
Store managers have discovered that their customers love the ability to wear matching colors with the lighters. The Lighter Leash and the lighters ideally synch up and are best displayed close to one another on store countertops. Before any of the countless business customers started cashing in on this product, Hastings and McCall went to the National Association of Convenience Stores show in the fall of 2005.
"It was an instant success," McCall said. "Everyone was interested in the product. We were doing about $10,000 to $15,000 a month before the show. By January of 2006, we were doing $150,000 of sales a month on this product alone. Really, once we moved those initial two pallets, we knew this could be a hallmark product. When it gets in the hands of consumers, they say, 'I cannot believe I have not had this before.'"
LighterLeash.com Provides Spark
Without question, the entrepreneurial wager Hastings put on McCall by giving him the sales reigns to the Lighter Leash has paid off handsomely. The Lighter Leash now accounts for a whopping 32 percent of the company's total sales, which will climb to $10 million this year.
"We stand behind the Lighter Leash 100 percent, as there is a money back guarantee," Hastings explained. "We do that because we know it sells if you get it on a store counter. It is not a flash in the pan. The Lighter Leash is currently our top selling product and has taken us in a new direction."
Hastings was laying the foundation for the company's success long before offering McCall the chance to become a salesman. It was one of the best moves a boss had ever made. It started in the mid 1990s when he was a young man himself. A roommate brought home something called "America Online". In short, he became an early adapter in terms of seeing the incredible direct marketing potential in the World Wide Web. Since then, his love affair with the medium has never waned. And it is evident if you look at the presentational panache at www.lighterleash.com.
Hastings' web design team has tastefully applied Adobe Flash to the 60 second intro page, which includes a dozen in-motion panels that give various nuggets of important product information. In addition, there are six handy category links during the intro, letting viewers get to the part of the site they are looking for.
After the viewers click through, they are taken to a homepage where videoed models display how the Lighter Leash works from the practical, consumer standpoint. Yet the team's expert designs are evidenced in even more ways. For instance, they have employed eye catching category tabs at the top of the home page, including sections called "Home," "Purchase," "Testimonials," "Displays" and "Contact." To promote continuous navigability, the tabs are available for the viewer at all times on the data driven site.
On the Purchase channel, users can fill out a form (http://lighterleash.com/register.php) to become retailer or distributor buyers. The site even has an interactive map where prospective buyers can locate their local distributor anywhere around the globe. In another example, the Testimonials section features 15 unsolicited remarks from store operators for big names such as Circle K, 7-11, Hess and E-Z Mart, among others, that praise the product and the company's service.
"It is worth noting that, in terms of our customers, we work with the little guys and the big guys," Hastings explained. "This marketplace is huge for both a wholesale player like us and our brick and mortar partners."
Lighter Leash's Sisters
Before LighterLeash.com became the shining star within the firm, Hastings already had a family of profiting sites, including Barproducts.com, Barsupplies.com, eBarSupply.com, BarStore.com and BartenderShop.com. Each brand offers the best items for both trade professionals and basement aficionados alike.
"By marketing the bar trade niche, you automatically have the home bar enthusiast, who are often Baby Boomers and getting their dream houses," Hastings said. "There is a ripple effect there. In all cases, we are professional and cater to our customers' needs."
Hastings and his marketing team have built up their six websites by committing to a multichannel e-philosophy. For instance, they have bought strategic keywords at Google, worked faithfully on natural search, executed regular email campaigns and have also run banners across a series of performance based ad networks.
"It is one thing to get the traffic there, but you have to convert," he explained. "It does not matter if it is a paid or natural search. If you do not hit customers with great deals, they are going to find someone who will."
So how does Hastings manage the six URLs and their sales? He has four people in CRM, a web designer, an IT guy, three sales people, a bookkeeper, a purchasing department and several warehouse staffers. He advises upstart wholesale executives to learn all they can about HTML and other emerging ecommerce code.
"It is worth its weight in gold to learn web design yourself," he said. "You need to know how code works. Then, when you start to hire web pros, you will know what they can and cannot reasonably do. It has let me get the business out of my garage and into bigger things." From Bartender to Marketing Hero
Indeed, Hastings started out with only a dozen products, and he was the lone company employee while toiling in his garage. Now, his company has 30,000 square feet of operations, more than 30 employees and 3,500 incredible products. Yet, it all started when he was a young bartender at Kally K's restaurant in Largo, FL, and the lead bartender was unexpectedly fired. Hastings became the main server. The guy who had just gotten a pink slip had a handmade drink recipe rolodex that had enabled Hastings to smoothly get by without years of experience behind the bar. The rolodex left with the fired barkeep. Hastings had no choice but to go home and make his own from scratch. It took him 30 long hours to complete the task.
"While I was putting it together, I realized that somebody ought to be manufacturing thousands of them because of the inherent demand," he explained. "Of course, that is when the light bulb went off in my head."
After picking up the patent for the Mix Master Cocktail Rolodex, he began marketing it with the few dollars he had, buying trade pub spots and sending out direct mail. It is still one of the firm's top 10 products and available at www.barsupplies.com.
The rest is history. Hastings enjoys the hearty success an entrepreneurial wizard like himself deserves to experience, as he plans to turn over many of his executive duties to a CEO in the future. Simply put, he is sick of the 60 hour work weeks.
It is clear that the free time he has earned is significantly due to trusting his gut on McCall and the Lighter Leash. Rather appropriately, he will continue using his instinctive nature, as he will fill up those leisurely days diving head first into his love for the daredevilish sport of powered paragliding. "You go low and slow and cruise at about 30 miles an hour," he explained. "It is something that I enjoy in kind of an adventurous way. People think I am crazy, but it can be very relaxing."
For more information, contact:
LighterLeash.com
Bar Products.com, Inc.
1990 Lake Ave. SE
Largo, FL 33771
Toll Free: 800-256-6396
Tel.: 727-584-2093
Websits: www.lighterleash.com
Entire contents ©2023, Sumner Communications, Inc. (203) 748-2050. All rights reserved. No part of this service may be reproduced in any form without the express written permission of Sumner Communications, Inc. except that an individual may download and/or forward articles via e-mail to a reasonable number of recipients for personal, non-commercial purposes.