INDEPENDENT RETAILER magazine is now the official news outlet for Wholesale Central visitors. Each monthly issue is packed with new product ideas, supplier profiles, retailing news, and business strategies to help you succeed.

See new articles daily online at IndependentRetailer.com.
JAGUAR IMPORTS introduces Lipstick Stun Gun, a rechargeable stun gun that, true to its name, is the size and shape of an ordinary lipstick tube. It is less than 3.5 inches long and has a 7/8 inch diameter.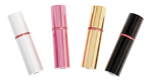 It comes in a glossy black case with a pink accent ring. The entire package includes the Lipstick Stun Gun in a choice of black, gold, pink or silver; a safety pin and lanyard, charger, instructions and a warranty. The stun gun itself also has a flashlight. Easy to carry in purse or pocket, Lipstick Stun Gun allows the carrier to be ready for any assault, without revealing the counter weapon. The stun is rated for 350,000 volts and ready to fire. Jaguar Imports is a specialist in stun guns, pepper sprays and other safety products. It calls for a minimum order of $100, which can include an assortment of any of its products. Lipstick Stun Gun wholesales for $19.99, and has a suggested retail price of $39.99. For more information, contact:
Jaguar Imports
7503 Exchange Drive
Orlando, FL 32809
Toll Free: 800-864-0511
Tel.: 407-278-5555
Fax: 309-403-6966
Website:
www.jaguarimports.com
Entire contents ©2023, Sumner Communications, Inc. (203) 748-2050. All rights reserved. No part of this service may be reproduced in any form without the express written permission of Sumner Communications, Inc. except that an individual may download and/or forward articles via e-mail to a reasonable number of recipients for personal, non-commercial purposes.