INDEPENDENT RETAILER magazine is now the official news outlet for Wholesale Central visitors. Each monthly issue is packed with new product ideas, supplier profiles, retailing news, and business strategies to help you succeed.

See new articles daily online at IndependentRetailer.com.
SOLAR STYLE utilizes a patented design in its series of mobile, solar powered units that can be used to charge portable electronic devices. These small units, which are about the size of a cell phone or PDA, gather energy from the sun or another strong light source, such as auto headlights.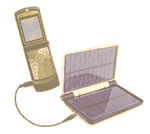 They can be used to charge cell phones, ipods or PDAs on the spot, or they can be placed in the sun to gather energy and store for later use. There are five different versions. The larger units have more panels and collect the sun's energy faster, making them especially suitable for use with ipods or portable video devices.
The smallest is a flip open, compact unit with two solar panels. All the units are plastic, in a clam shell design that has a sleek, tech look, and protects the solar panels when not in use. They have an on/off button and an LED light that shows the status of the battery as it charges.
The minimum order is generally one case of 40 units per style. However, the company will work with new retailers in developing smaller orders, with increases over time. Prices vary, depending on style. Wholesale prices range from $17.30 a unit for the smallest version to $34.99 for the largest. The corresponding suggested retail prices range from $34.99 to $55.99 a unit.
For more information, contact:
Solar Style
2545 Lord Baltimore Drive Ste. F
Baltimore, MD 21244
Toll free: 877-837-6527 or 866-358-0010
Tel.: 410-484-0010
Fax: 410-484-0051
Website: www.solarstyle.com
Entire contents ©2022, Sumner Communications, Inc. (203) 748-2050. All rights reserved. No part of this service may be reproduced in any form without the express written permission of Sumner Communications, Inc. except that an individual may download and/or forward articles via e-mail to a reasonable number of recipients for personal, non-commercial purposes.