INDEPENDENT RETAILER magazine is now the official news outlet for Wholesale Central visitors. Each monthly issue is packed with new product ideas, supplier profiles, retailing news, and business strategies to help you succeed.

See new articles daily online at IndependentRetailer.com.
HEALTH ROCKERS introduces a line of "LovRub" all natural sexual stimulants for men and women. LovRub for Men and LovRub for Women are gels that contain aloe vera and were formulated by scientists and sex health experts. The women's version calls for application of a quarter size dab, and between 10 and 15 applications are contained in a tube. The men's version calls for a dime size dab, and the tube contains between 20 and 30 applications. Both are condom safe and made in the US.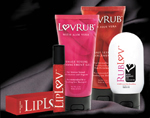 There is also "RubLov" massage gel, described as a, "warm up for the LovRub topical stimulant." It is also made of all natural ingredients. "LipLov," another all natural formulation, comes in an applicator that works like a stick of lip balm. It is safe, and designed to enhance erotic pleasure wherever lips touch.
The company also offers a, "Survival Kit for Lovers," which contains the men's and women's LovRub gels, RubLov and LipLov, along with the company's Lov Rubber condoms and two chocolate hearts. Lov Rubbers are latex with a silicone lubricant. They are natural color and are FDA approved. For more information on wholesale prices, minimum orders and suggested retail prices, contact:
Health Rockers
Toll Free: 888-644-0006
Tel.: 917-601-4870
Website: www.lovrub.com
Entire contents ©2022, Sumner Communications, Inc. (203) 748-2050. All rights reserved. No part of this service may be reproduced in any form without the express written permission of Sumner Communications, Inc. except that an individual may download and/or forward articles via e-mail to a reasonable number of recipients for personal, non-commercial purposes.