INDEPENDENT RETAILER magazine is now the official news outlet for Wholesale Central visitors. Each monthly issue is packed with new product ideas, supplier profiles, retailing news, and business strategies to help you succeed.

See new articles daily online at IndependentRetailer.com.
ANWAR ENTERPRISES offers a power packed MP3/MP4 player that is barely more than three inches wide and has a 2.5 inch screen. It has a built in, one gigabyte capacity, and a card slot, so the capacity can be increased.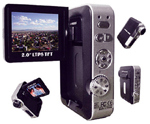 The unit includes a digital camera, camcorder with built in speakers, and holds downloaded audio and video. It comes with a USB cable, charger and ear phones. It is offered in a choice of five colors: black, silver, blue, red and green.
The minimum order is 10 units, typically containing two of each color, and it is shipped in a box that serves as a counter displayer. The wholesale price in orders of that quantity is $58 per unit. Suggested retail price ranges from $150 to about $159.
Anwar Enterprises supplies a wide range of other hand held electronics, including game units that play on a television.
For more information, contact:
Anwar Enterprises
1645 Freeway Drive
Reidsville, NC 27320
Tel.: 336-613-5521
Fax: 336-342-0789
Entire contents ©2021, Sumner Communications, Inc. (203) 748-2050. All rights reserved. No part of this service may be reproduced in any form without the express written permission of Sumner Communications, Inc. except that an individual may download and/or forward articles via e-mail to a reasonable number of recipients for personal, non-commercial purposes.