INDEPENDENT RETAILER magazine is now the official news outlet for Wholesale Central visitors. Each monthly issue is packed with new product ideas, supplier profiles, retailing news, and business strategies to help you succeed.

See new articles daily online at IndependentRetailer.com.
PHILLIPS INTERNATIONAL INC. has introduced a collection of, "What's Your Mood?," necklaces in its Cool Jewels by Phillips International line. They are offered in a special display package. The spinning countertop display unit comes with 10 dozen of assorted designs, and it takes up just a nine inch wide space.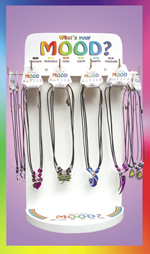 The wholesale price for the unit is $228. The suggested retail price per necklace is $5.99. On that basis, the display package provides retailers with a return of more than $718. Retailers that mention code CVRAR will receive a $15 discount from their order. The displayer spells out the mood code, showing that black indicates anxious, yellow for nervous, red for cool, green for calm, blue for happy, and gray for passion. The items in the What's Your Mood? package can also be ordered from the website ala carte. The designs include dragonflies, butterflies, sharks, pirates, ladybugs, bears, bear paws, sea horses, dolphins, stars, a moon and stars, lions, wolves and surfboards. This program is just one of many high volume, high margin programs available from Phillips. Others include stainless steel jewelry, hemp necklaces, leather bracelets, tribal bracelets, handmade fashion glass, fimo rings, fossil shark teeth and many more. For more information, contact:
Cool Jewels by Phillips International Inc.
717 Northwest Second Street
Hallandale, FL 33009
Toll Free: 800-432-3636
Tel.: 954-456-5444
Fax: 954-456-5501
Website:
www.cooljewels.com
Entire contents ©2023, Sumner Communications, Inc. (203) 748-2050. All rights reserved. No part of this service may be reproduced in any form without the express written permission of Sumner Communications, Inc. except that an individual may download and/or forward articles via e-mail to a reasonable number of recipients for personal, non-commercial purposes.