INDEPENDENT RETAILER magazine is now the official news outlet for Wholesale Central visitors. Each monthly issue is packed with new product ideas, supplier profiles, retailing news, and business strategies to help you succeed.

See new articles daily online at IndependentRetailer.com.
The Billy-Bob Secret To Life, a motivational, inspirational, How-To-Achieve-It autobiography is hot off the press, written by the owner of the famous, Billy-Bob Teeth company. The author, Jonah White, is an original American entrepreneur. He was raised a few centuries behind the times, growing up in a log cabin, dirt poor, without the simple things we take for granted, like running water or a flushing toilet.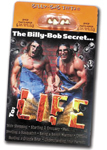 To make Jonah's upbringing even more unusual, his parents both shared Native American descent. His father was Cherokee and grew up on an Oklahoma Indian Reservation. Jonah's childhood didn't intermingle with I-Pods, text messaging or Wii computer games. Bare feet, nature, hunting and living in caves more defined Jonah's childhood. He grew up in a different time and place. But slowly he began to adapt to, "the white-man's world," as he describes it. Jonah started by playing high school, and then college football. He majored in biology and botany, still drawn to nature.
Jonah decided that he would start a mail order company, and run it right from his parents' log cabin. He was 25 years old, and he needed to find the right item. One weekend, Jonah was asked by some of his former coaching staff to attend their football game and help inspire the team through the tough season they were having. After the game, Jonah saw funny fake teeth in the mouth of a young dental student named Rich Bailey. The teeth were so realistic looking that they changed the personality of this guy.
Jonah instantly saw the potential of the "Billy-Bob" teeth. Putting his entire net worth on the line ($400), Jonah and his new partner, Rich Bailey, founded the Billy-Bob Teeth Corporation. To date, the company has sold over 15 million Billy-Bob teeth.
The new book is more than a rags to riches story, however. It's about living life and pressing yourself in ways that people don't seem to do anymore. Jonah White lives every day to the fullest, and more than anything, that's what the book is about. The Billy-Bob Secret To Life can be purchased for $29.99 at www.billybobproducts.com, or call 1-800-457-6249.
Entire contents ©2023, Sumner Communications, Inc. (203) 748-2050. All rights reserved. No part of this service may be reproduced in any form without the express written permission of Sumner Communications, Inc. except that an individual may download and/or forward articles via e-mail to a reasonable number of recipients for personal, non-commercial purposes.