INDEPENDENT RETAILER magazine is now the official news outlet for Wholesale Central visitors. Each monthly issue is packed with new product ideas, supplier profiles, retailing news, and business strategies to help you succeed.

See new articles daily online at IndependentRetailer.com.
THE ROSEMARY COMPANY introduces its exclusively designed New Daddy Tool Belt. This tool belt offers basic instructions and contains all the items that a new dad needs. Once baby grows up, this unit remains useful, because it is a tool belt.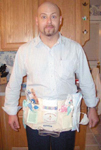 One size fits all, and it is made of heavy duty canvass. Among the 18 pieces contained in New Daddy Tool Belt are a diaper changing pad, pacifier, freezable teether and bottle. It also contains goggles to protect Dad from squirts, a face mask, tongs and a clothespin for his nose.
There are light hearted, but useful instructions on how to perform necessary tasks. Clipped to the belt is a big white button with the image of a stork and baby. All items in the tool belt are very colorful, and the kit comes in three basic color choices for a boy, girl or in neutral for a baby whose gender has not been identified prior to birth. This is the male counterpart to mother's baby shower gifts.
The minimum order is a single unit. Wholesale price is $15, and suggested retail price is $29.95 or more.
For more information, contact:
The Rosemary Company
1717 East Monroe Road, Ste. B
Tecumseh, MI 49286
Toll Free: 800-823-3891
Tel.: 517-423-6820
Fax: 517-423-6976
Website: www.rosemarycompany.com
Entire contents ©2021, Sumner Communications, Inc. (203) 748-2050. All rights reserved. No part of this service may be reproduced in any form without the express written permission of Sumner Communications, Inc. except that an individual may download and/or forward articles via e-mail to a reasonable number of recipients for personal, non-commercial purposes.