INDEPENDENT RETAILER magazine is now the official news outlet for Wholesale Central visitors. Each monthly issue is packed with new product ideas, supplier profiles, retailing news, and business strategies to help you succeed.

See new articles daily online at IndependentRetailer.com.
JUST SIMPLY UNIQUE adds a new mini pleat line to its popular popcorn fashion. Mini pleats are the newest extension of that fashion trend. Like the popcorn apparel, mini pleats have great stretchability. The tops and skirts are of satin polyester, and one size fits most of those who wear sizes from small to extra large.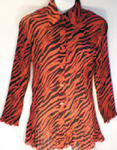 There are mini pleat sleeveless, short sleeve and long sleeve tops and mid length skirts. They are ideal for travel, as they can be folded into a shoe and they don't wrinkle. They are light weight, can be washed by hand, are quick drying and don't need ironing.
The mini pleat units are offered in a choice of hundreds of new colors and prints. Among the most popular prints are florals, animals and geometrics, and new styles arrive all the time. Just Simply Unique sends flyers or emails to customers when new styles arrive, and the assortment can also be found on the company website.
There is no minimum order, but the company prefers to sell in quantities of at least a dozen units, which can be in assorted colors, prints and styles. Wholesale prices range from $6 for a sleeveless top to $9.50 for a skirt. The suggested retail is double wholesale, or as much as three times, depending on the market.
For more information, contact:
Just Simply Unique
Hudson, FL 34667
Tel.: 813-843-4983
Fax: 727-869-2424
Website: www.justsimplyunique.com
Entire contents ©2023, Sumner Communications, Inc. (203) 748-2050. All rights reserved. No part of this service may be reproduced in any form without the express written permission of Sumner Communications, Inc. except that an individual may download and/or forward articles via e-mail to a reasonable number of recipients for personal, non-commercial purposes.