INDEPENDENT RETAILER magazine is now the official news outlet for Wholesale Central visitors. Each monthly issue is packed with new product ideas, supplier profiles, retailing news, and business strategies to help you succeed.

See new articles daily online at IndependentRetailer.com.
RIGHT THOUGHT PENS from The Greeting Pen Company don't just write messages, they carry messages on their sides. The ball point pens have a plastic rotor inside that can carry as many as four custom messages.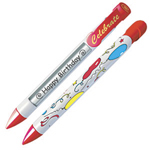 There is a clear plastic viewing screen to view the messages, and each click of the pen reveals another message. Greeting Pen Company's Rotating Message Pens are stocked in a range of themes, and custom units are also available.
Among the most popular themes are an inspirational Christian line, several units carrying the Serenity Prayer associated with 12 step programs, disease recovery themes, a military line and collegiate themes. They are offered in canisters of 36 units. The Serenity Prayer model, for example, is among the most popular, and it comes in a canister of 36 identical pens carrying that message.
Another popular canister has a mix of units with crosses, the Christian fish symbol and Bible verses. The wholesale cost of all but the collegiate units is $36 per canister, and the suggested retail price if $1.99 a unit. The company requests a first order of $150 on a credit card, and it can contain four canisters in as many a four different themes.
Retailers can order custom pens carrying any message they like. A gift shop, for example, might want to include messages related to a particular tourist site or area. The minimum order for custom is 1,500 pens, and the wholesale cost varies by quantity, but is typically in the range of $1.80 a unit.
For more information, contact:
Right Thought Pens
D/ba The Greeting Pen Company
1116 Harpeth Industrial Court
Franklin, TN 37064
Toll Free: 866-478-7367 Tel.: 615-790-5055
Fax: 615-790-1530
Website: www.greetingpen.com
Entire contents ©2022, Sumner Communications, Inc. (203) 748-2050. All rights reserved. No part of this service may be reproduced in any form without the express written permission of Sumner Communications, Inc. except that an individual may download and/or forward articles via e-mail to a reasonable number of recipients for personal, non-commercial purposes.