INDEPENDENT RETAILER magazine is now the official news outlet for Wholesale Central visitors. Each monthly issue is packed with new product ideas, supplier profiles, retailing news, and business strategies to help you succeed.

See new articles daily online at IndependentRetailer.com.
RAYCO INTERNATIONAL LTD. has developed the ultimate survival kit for dogs. Called the AKC Pet First Aid Kit, it was designed in association with and licensed by the American Kennel Club.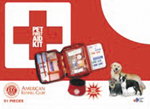 The bright red kit is made of water resistant nylon and is 12 inches wide, nine inches tall and three inches deep. It is a soft sided bag, and is designed to be expanded if necessary. The kit contains 51 items, ranging from first aid basics to some innovative items that were especially designed to protect dogs during severe emergencies such as floods, fires and evacuations. There are, for example, a lead and a collar, which can be written on with a waterproof pen. It allows pet owners to provide more information than is typically contained on a chip, which may have been fitted into the dog by a vet. The additional information could indicate any medication the dog may need, the phone number of the nearest relative and/or the name and number of an evacuation center where the owner is temporarily located. There is also a magnifying glass and tweezers, a sting relief patch, alcohol pads, waste bags, bottles to hold specimens and samples, wound washes, a collapsible water bowl, muzzle and much more. The typical minimum order is 24 units, but the company will accept orders of as few as 12 units. The wholesale cost is based on volume, but designed to ensure retailers of a healthy margin of profit. The suggested retail price is $24.95, making it possible for dog owners to consider multiples purchases, such as one for the car, home, vacation home and boat for example. For more information, contact:
Rayco International Ltd.
1201 Broadway, Ste. 706
New York, NY 10001
Toll Free: 800-686-5540
Tel.: 212-686-5540
Fax: 212-686-5545
Website:
www.firstaid-usa.com
Entire contents ©2022, Sumner Communications, Inc. (203) 748-2050. All rights reserved. No part of this service may be reproduced in any form without the express written permission of Sumner Communications, Inc. except that an individual may download and/or forward articles via e-mail to a reasonable number of recipients for personal, non-commercial purposes.