INDEPENDENT RETAILER magazine is now the official news outlet for Wholesale Central visitors. Each monthly issue is packed with new product ideas, supplier profiles, retailing news, and business strategies to help you succeed.

See new articles daily online at IndependentRetailer.com.
BEST FRIENDS CARE LLC introduces Pet Peek, designed for installation into wooden fences, in order to allow dogs to view the passing scene. Pet Peek consists of a clear acrylic, dome shaped "window" that is about nine and a half inches in diameter and projects about six inches out from the fence.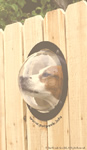 The dome accommodates a dog's nose, so the pet can peek through the fence. Pet Peek comes in a kit that includes exterior trim for the fence and all of the hardware needed for installation. It attaches with four bolts and has a flange that actually makes the fence stronger. Children like it, too.
Installation is easy. Pet Peek comes in display packaging that shows how it's installed and used. The packages are ready to go on the retailer's shelf or hang on a hook.
The minimum order quantity is four units, and the wholesale price is $13.80 a unit. The suggested retail price is $29.98 a unit.
For more information, contact:
Best Friends Care LLC
4545 South Monaco Street Unit 243
Denver, CO 80237
Fax: 303-220-0307
Website: www.petpeek.info
Entire contents ©2021, Sumner Communications, Inc. (203) 748-2050. All rights reserved. No part of this service may be reproduced in any form without the express written permission of Sumner Communications, Inc. except that an individual may download and/or forward articles via e-mail to a reasonable number of recipients for personal, non-commercial purposes.