INDEPENDENT RETAILER magazine is now the official news outlet for Wholesale Central visitors. Each monthly issue is packed with new product ideas, supplier profiles, retailing news, and business strategies to help you succeed.

See new articles daily online at IndependentRetailer.com.
FUN FRIENDS offers its plush Fun Friends cell phone covers in a wholesale package that includes 48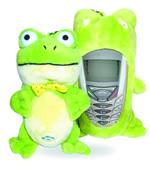 units, on eight prepackaged clip strips, for easy merchandising. The deal includes six of the company's top selling plush characters. They are Tadpole-Green Frog, Oinky-Oinky Pig, Cuddles Brown and White Dog, Beary Brown-Brown Bear, KitCat-Brown and White Cat, and Funky-Brown Monkey. The 48 unit wholesale case includes four of each plush bar style cell phone cover, and four of each plush universal flip style cell phone cover. The wholesale cost totals $192, which is $4 a unit. The suggested retail is $9.99 per cell phone cover, which represents a total return of $479.52.
For more information, contact:
Fun Friends Inc.
2073 Porter Lake Drive, Ste. E
Sarasota, FL 34240
Toll Free: 877-203-7185
Website: www.funfriends.com
Entire contents ©2023, Sumner Communications, Inc. (203) 748-2050. All rights reserved. No part of this service may be reproduced in any form without the express written permission of Sumner Communications, Inc. except that an individual may download and/or forward articles via e-mail to a reasonable number of recipients for personal, non-commercial purposes.