INDEPENDENT RETAILER magazine is now the official news outlet for Wholesale Central visitors. Each monthly issue is packed with new product ideas, supplier profiles, retailing news, and business strategies to help you succeed.

See new articles daily online at IndependentRetailer.com.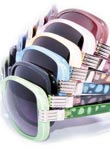 The hottest trend in sunglasses is not as much about design as it is about functionality, according to David Zeuner, CEO of Sunglass Manufacturing Group. "Polarview is a new technology for sunglasses that does everything polarized lenses do to block UVA and UVB light as well as reflective glare, but, unlike polarized lenses, they don't block instrumentation. Even in bright light, you can see screens on devices like cell phones, GPS, aviation panels and iPads. All of our sunglasses are Polarview." Notably, the Federal Aviation Administration (FAA) has approved the use of Polarview glasses, and outlawed the use of polarized glasses, for airline pilots.
"Polarview takes sunglasses to a whole new level and they offer advantages consumers are looking for," Zeuner points out. As a result, they sell significantly better than polarized lenses. Another advantage to retailers is the product's hefty mark up. Sunglass Manufacturing Group's sunglasses wholesale for around $2 each, and retail is $12.99 to $19.99 for men's and women's styles and $9.99 for children's. Starter packs are available, and a 60-piece best seller mixed lot wholesales for $24 per dozen, for example.
"We are introducing a line of goggles this year," Zeuner shares. "We have 20 styles with removable foam inserts. They are great for motorcycles, jet skis and wave runners because they are salt water resistant and you can see the speedometer." For women, Zeuner says, the company's big plastic sunglasses with logos are expected to be great sellers. "We have more than 100 women's high fashion styles." Zeuner expects the Sunglam line, which is available in assorted colors and has patterned arms, to be popular. "We expect our men's Mafia eyewear to be strong as well." Mafia style glasses have a small side window and come in several colors. Sunglass readers with magnifying power, so users can read by the pool or beach, also will be popular in spring and summer. Ten styles are available.
Sunglass Manufacturing Group's website is built for online retailers to buy. "We do everything online, we're Internet people," Zeuner adds. "Anything that is on the site is in stock. Buyers can be confident that anything they put in their shopping cart is available." Another important feature is a result of the company photographing images with high tech camera equipment. "If you hover over a picture, you get a close up image of the product and can see details like the hinges." The minimum order is one dozen pairs, and retailers who buy online get free shipping. Point of purchase displays are available: a 120-piece spinner rack wholesales for $249; and 3-piece and 5-piece acrylic displays wholesale for $7 and $10 each, respectively.

For more information:
Sunglass Manufacturing Group
Toll Free: 800-538-0048
Email: sales@sunglassmanufacturing.com
Website: www.sunglassmanufacturing.com

Entire contents ©2023, Sumner Communications, Inc. (203) 748-2050. All rights reserved. No part of this service may be reproduced in any form without the express written permission of Sumner Communications, Inc. except that an individual may download and/or forward articles via e-mail to a reasonable number of recipients for personal, non-commercial purposes.