INDEPENDENT RETAILER magazine is now the official news outlet for Wholesale Central visitors. Each monthly issue is packed with new product ideas, supplier profiles, retailing news, and business strategies to help you succeed.

See new articles daily online at IndependentRetailer.com.
ASSURANCE INDUSTRIES introduces Perfect-O-Play, a 40 by 40 inch adjustable, standalone, universal practice net. The patent pending design is an upright metal stand of steel rods that is stabilized against wind or the force of balls by three water bags that each hold up to 22 lbs. of water.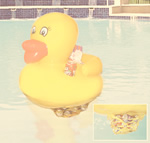 The target has blue, green, yellow and red Velcro target rings with diameters of 20 inches, 16 inches, 12 inches and nine inches. The largest, blue ring is beginner level and the smaller rings are targets for intermediate, expert and professional levels. Units come with 12 Velcro balls that cling to the stand. The stand is easy to assemble and can be adjusted from three inches above the ground to as high as 40 inches. This makes it suitable for a variety of sports practice, including darts, golf chipping, baseball, soft ball, football throwing, tennis serves, hockey shots and "Snag" golf bulls eye.
There is no minimum order requirement. The wholesale price is $75 a unit, and the suggested retail price is $149.
The same company has added an inflatable duck cooler to its line of Waddlers inflatables. The duck cooler is made of inflatable vinyl and measures 22 inches wide, 23 inches high and 24 inches long. It has a flat surface on the back for holding snack foods, and four indentations for holding beverage cans. In addition, it has an underwater mesh bag that can keep eight cans cold under water. A hand pump for inflating the duck is included, and units are packaged ready for in-store display.
The minimum order for inflatable duck cooler is six units. The wholesale price is $6.90 a unit, and suggested retail is $14.99.
For more information, contact:
Assurance Industries
1205 Fulton Place
Fremont, CA 94539
Toll free: 800-772-3217
Tel.: 510-770-0828
Fax: 510-770-0361
Website: www.waddlers.com
Entire contents ©2023, Sumner Communications, Inc. (203) 748-2050. All rights reserved. No part of this service may be reproduced in any form without the express written permission of Sumner Communications, Inc. except that an individual may download and/or forward articles via e-mail to a reasonable number of recipients for personal, non-commercial purposes.